Women In Leadership + Capacity Building + Strategic Initiatives + Social Impact Programs
If you're building a people-centered company based on your values and commitment to justice, sustainability, and positive profitability, I invite you to check out my operations, capacity building, and program management services. I am here to support you on your business journey.
Strategic Career Management is the lifelong process of investing resources into your career to maintain or increase your value in the workplace, undertake work that is personally satisfying, strive for work/life balance, and achieve financial security. If you're ready to become a more bold, authentic, effective, and powerful leader, I invite you to explore my strategic career management services for every phase of your career.
Career Activation Strategy Session
My Career Activation Strategy Session allows you 60 minutes of uninterrupted time with me to develop strategies to accelerate your career. You and I will work together to generate ideas and creative solutions to your employment questions, issues or interests while developing customized strategies to help you reach your next career goal.
Uplevel Your Position Program
If you want to elevate your career confidence and competence, my Uplevel Your Position Program takes a deep dive into seven proven career acceleration strategies. The program will go beyond the surface to help you eliminate frustration and confusion that career planning can produce.
Uplevel Your Position Intensive
One three-hour individual coaching session for alumnae of the Uplevel Your Position Career Development Program. This is a collaborative process to support you in focusing and implementing specific Uplevel Your Position Program strategies into your individual career plan.
We are all in the people business!
At Nicki Sanders Leadership Consulting, our mission is simple – to eliminate toxic workplaces by developing skilled, empathetic, and goal-oriented leaders who have the vision, support, and resources to create a culture where employees thrive individually and collectively.
I am privileged to serve as a Career and Empowerment Strategist for Women of Color in Social Work and Human Services Leadership and a Consultant to the companies who want to keep them on board.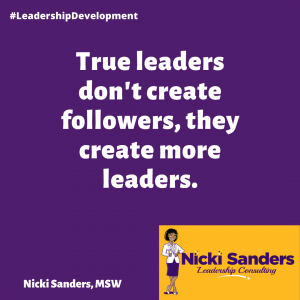 Clarity | Credibility | Congruency
I used Zoom at least monthly for coaching before the coronavirus pandemic. Since the pandemic I have been saying that I am "Zoomed Out" – which includes Google Meet and Microsoft Teams. Video conferences wear me out. Quite often I don't even turn on my camera. Enough already! Before my vacation last month, I …
Disengaged employees, staff conflict, professional burnout, and inefficient processes should not be an accepted norm.
Each negatively impacts your bottom line, but it doesn't have to be this way. Let's work together to operationalize your vision and create a healthy culture where both your business and your employees thrive.
SUCCESS IS AVAILABLE!
Are you ready to level up in leadership?
Join My Community!
Receive weekly career acceleration and leadership development tips and strategies (and a few surprises along the way) to support you as your travel your unique leadership journey.