The Career Stuff:
I have over 20 years of direct service experience in program planning, community engagement, and group facilitation
As a senior manager, I have hired, trained, and supervised direct service staff, interns, and volunteers for over a decade
I am an adjunct professor at Trinity Washington University, where I earned my Bachelor of Arts degree in Sociology
The Education Stuff:
I earned my Master of Social Work from the University of Maryland, Baltimore, School of Social Work with a concentration in Management and Community Organization and a specialization in Social Action and Community Development
The Entrepreneurship Stuff:
I am the Founder and CEO of Nicki Sanders Leadership Consulting
I am a Social Work Career Coach for High-Performing Women of Color in Social Work Leadership
I am a Leadership Consultant committed to organizational and employee wellness
The Legacy Stuff:
My social work career fulfillment includes building an intergenerational community on acres of farmland where vocational training and entrepreneurship are central
The Fun Stuff:
I have LOVED New Edition since I heard Candy Girl in 1983
I am a music lover who loves 80's hip hop (LL Cool J), 90's R&B (Babyface), and gospel (Fred Hammond)
Reading is the ultimate self-care for me
I love summer weather (I will take hazy, hot, and humid over snow any day of the year)
I super love cupcakes and have eaten a cupcake in Washington, DC, and 16 of the 19 states where I've visited
I really do run on cupcakes and Jesus
I love to travel and consider my birthday a national holiday that should be celebrated with a great trip
My Love Letter To Women of Color in Social Work Leadership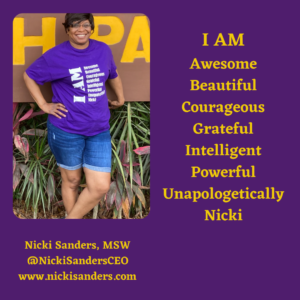 All work created by Nicki Sanders, The Teen Toolbox, Packaged For Success, or Nicki Sanders Leadership Consulting on this website are copyrighted materials and not for reproduction or use without expressed written consent.  Copyrighted materials include writings, photographs, images, videos, and products.
© 2023 ALL RIGHTS ARE RESERVED.