For four awesome weeks in June 2020, Nicki Sanders and Nicki Curry hosted "The Nicki and Nikki Show" on Instagram. We combined our experience and talent for self-promotion and brand development to help entrepreneurs and job seekers design and pursue their next level with intention and confidence.
Nikki Curry is an award winning Brand Expert, Talent Producer, and Senior Publicist, founded The Image Brand Co. in 2006 and then expanded the operations and opened the Nikki Curry Media Division in 2010. Nikki believes that everyone has a Unique Brand and a Powerful Voice inside and we are the perfect firm to help you get your voice heard so that you can live your life on your own terms.
Catch the replays on Instagram:
Topics Covered:
I. 6/3/20 – Be Your Brand, Live Your Brand: Stand In Your Truth
II. 6/10/20 – Be Your Brand, Live Your Brand: Relationship Building
III. 6/17/20 – Know Your Worth: Don't Settle for Less Than You Want In Life
IV. 6/24/20 – Creating the Right Mindset
After you watch, let me know what strategies you found most relevant!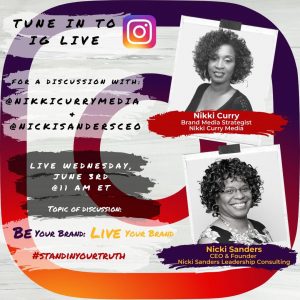 Nicki Sanders, MSW, CEO, is a travel and cupcake lover with an aptitude for authentic connection and career design. She has an extensive background in developing and managing successful programs and leading high-functioning multi-disciplinary teams. She is an accomplished professor, coach, trainer, and group facilitator who has merged her Master of Social Work degree and over 20 years of diverse work experience into a thriving business. Nicki Sanders Leadership Consulting helps businesses recruit and retain the best employees and helps women in mid-level management design the careers of their dreams.
© 2020 Copyright Protected. ALL RIGHTS ARE RESERVED.