Reading is at the top of my self-care plan. I love to read but sometimes I allow myself to get too busy.  Reading  helps me to gain new skills and information as well as relax and stay focused on my goals.
Here are 10 books that are on my 2019 Reading List:
Reinventing You: Define Your Brand, Imagine Your Future by Dorie Clark
Stand Out: How to Find Your Breakthrough Idea and Build a Following Around It by Dorie Clark
Principle Centered Leadership by Stephen Covey
No Matter What! 9 Steps to Living the Life You Love by Lisa Nichols
Mayor For Life by Marion Barry
Good leaders ask great questions: your foundation for successful leadership by John C. Maxwell
The 5 levels of leadership: proven steps to maximize your potential by John C. Maxwell
Soar! Build your vision from the ground up by TD Jakes
Extraordinary influence: how great leaders bring out the best in others by Tim Irwin
You can't give what you don't have: creating the seven habits that make a remarkable life by Greg Hiebert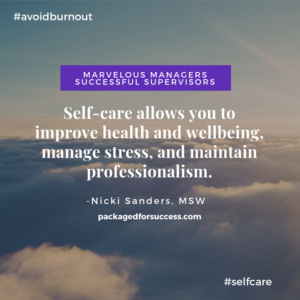 Nicki Sanders, MSW, is a travel and cupcake lover with a passion for self-discovery and career advancement. She has an extensive background in developing and managing interns and successful internship programs. She is an accomplished manager, professor, coach, trainer, and group facilitator who has packaged her Master of Social Work degree and 20 years of diverse work experience into Packaged For Success Enterprises, a full-service training and professional development company.
© 2018 Copyright Protected. ALL RIGHTS ARE RESERVED.