Self-reflection is essential to career clarity. If you want to know where you are going (in the new year) you must know where you are starting (at the end of this year). The career of your dreams is available and attainable!
Set aside some time to decide what you want keep, want to eliminate, and want to pursue in your career in 2021.
10 Career Questions to Ask Yourself Before the End of the Year:
What do I like most about my present job?
Did I maintain healthy work-life balance consistently this year?
What do I like least about my present job?
When did I last push the boundaries of my comfort zone?
Have I kept up with new research or advancements that impact my field?
Did I reach the career milestones or goals I wanted to this year? If no, why not?
What am I most proud of achieving in my career this year?
Do I earn enough from my job to live comfortably?
If I were guaranteed success, what would I do?
What is the top career goal I can set for myself this coming year?
Time to go from overworked, underpaid, and unappreciated to energized, well-paid, and appreciated! Let me help you transition!
REQUEST: Please take a few minutes to complete my anonymous career acceleration survey to ensure that my programs and services meet your career needs. No woman left behind in 2021!
Related: How Can I Help You?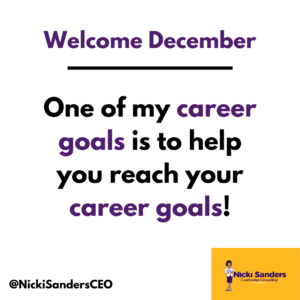 Nicki Sanders, MSW, CEO, is a travel and cupcake lover with an aptitude for authentic connection and career design. She has an extensive background in developing and managing successful programs and leading high-functioning multi-disciplinary teams. She is an accomplished professor, coach, trainer, and group facilitator who has merged her Master of Social Work degree and over 20 years of diverse work experience into a thriving business. Nicki Sanders Leadership Consulting helps businesses recruit and retain the best employees and helps women in mid-level management design the careers of their dreams.
© 2020 Copyright Protected. ALL RIGHTS ARE RESERVED.