"A respected professional who has led, coordinated, and managed multi-disciplinary teams to produce positive outcomes within required time frames."
This sentence can be found in the summary of qualification on one version of my resume.  This sentence can mean a lot of nothing at all depending on who reads it.  To put it more simply I have a gift for hiring well which results in a strong team of productive, passionate, engaged employees. We get the job done!  I appreciate that I have the ability to include interns on my teams. Actually, I love working with interns (emerging professionals) and new professionals.  I also have special passion for working with millennials and years of experience with multiple generations in the work place.
Many internship 'experts' and consultants operate similar to classified ads or recruiters and advertise internships.  Others acquired their expertise by working multiple internships. (By the way, I've done tons of volunteering but I've only completed three official internships.)  I can recommend students to internship opportunities and also offer the coaching and assistance needed for students to get hired as an intern and excel at their internship placement.  My sweet spot, however, is that I am a strategic thinker with a passion for career development.  My interns are confident contributors who make fabulous employees.
My management goal is to get the right intern into the right position so that company productivity and profits increase while my intern develops valuable professional skills and improves their professional network.  I believe that an intern is more than cheap labor.  I work hard to ensure that my intern is a valuable team member and an internship is a mutually beneficial arrangement. I am great at hiring, developing, and launching interns – even when I am providing the launching pad and a different organization is gaining an awesome employee.  Why pour so much into someone I may lose? Because the end result is that I am able to give back to my community, create brand ambassadors, and establish new partnerships. And don't forget, there is always the possibility that I will be able to hire my intern in the future.
10 Things I've Never Heard My Interns Say
She brought me in because she can't afford to hire a real employee.
I'm just doing busy work.
This doesn't relate to my career interest.
This doesn't relate to my education/major.
I'm bored.
I'm not putting this on my resume.
I would never recommend that anyone intern here.
She doesn't care that I'm a student.
I don't know if I'm performing well.
She's rude/nasty to her interns.
Article originally published on LinkedIn.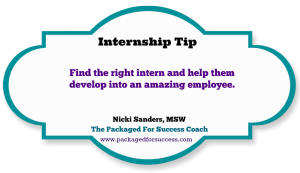 Nicki Sanders, The Packaged For Success Coach, is an Adjunct Professor with an extensive background in developing and managing internship programs. She is a skilled program manager, coach, trainer, and group facilitator who has packaged her Masters of Social Work degree and 20 years of work experience into Packaged For Success, a full service training and professional development company.
© 2016 Copyright Protected. ALL RIGHTS ARE RESERVED.