Do you love your job? Are you working in the career of your dreams?

What is your career superpower? Where do you excel in your position?

Are you ready for your next level?

Well, you won't get promoted if you're the best kept secret. You will be overlooked and passed over if no one knows how amazing you are. If you want to get promoted your skills, talents, and achievements must be known.
Careers are not one size fits all. There are many career acceleration strategies that can be customized for your specific career journey.
Here are 10 Ways to Increase Your Visibility in the Workplace to Accelerate Your Career:
Regularly update your supervisor – Clear communication in the workplace is essential. Update your supervisor on your progress and achievements so you are top of mind when a promotion becomes available.
Network and connect with leaders and decision makers – It's not always what you know, who you know is critical to long-term career success. Connecting with the people who can make your promotion possible.
Take on a stretch project – Take initiative and show that you are willing to learn and contribute by taking on a project outside of your regular job description,
Speak up – Throw your hat in the ring. Let it be known that you are ready, willing, and able to go to the next level.
Do excellent work – If you want a higher salary or level of responsibility then you must perform well at your current role.
Have good attendance and punctuality – You will not get promoted if you don't come to work regularly or if you're always late. Get noticed for something positive.
Prioritize your work – Ensure that priority tasks are completed first. There is always work to be done, but not all work is equally urgent or important. Know the difference.
Be a team player – Work toward the greater good of the company. Collaborate with and help your colleagues when needed. There is no I in team.
Observe what isn't working – Whether outdated processes or disruptive or unproductive employees, observe what isn't working well and stay clear of or do the opposite.
Operate in integrity – Do what you say you will do and complete it when you said it would be done. Reliability is essential if you want to get promoted.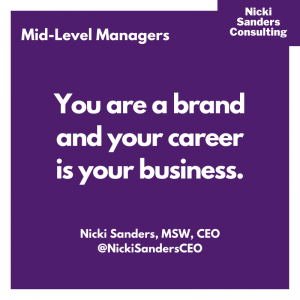 Nicki Sanders, MSW, CEO, is a travel and cupcake lover with an aptitude for authentic connection and career acceleration. She has an extensive background in developing and managing successful programs and leading high-functioning multi-disciplinary teams. She is an accomplished professor, coach, trainer, and group facilitator who has merged her Master of Social Work degree and over 20 years of diverse work experience into a thriving business. Nicki Sanders Leadership Consulting helps businesses recruit and retain the best employees and helps women in mid-level management Get Promoted to the job of their dreams.
© 2020 Copyright Protected. ALL RIGHTS ARE RESERVED.