The global coronavirus health panademic has forced us to pivot in all areas of life. Our Annual Pack A Purse™ Drive was no exception. For the safety of all of my volunteers and donors, I decided against accepting new and used purses in the same ways and cancelled our Annual Purse Packing Party.
Five Ambassadors answered the call to safely shift how we collect and deliver purses in 2020.
For our 14th Annual Pack A Purse™ Drive, 273 purses and backpacks filled with personal hygiene items were delivered to 9 youth serving organizations.
Thanks to the awesome generosity and compassion of all the donors, Ambassadors and volunteer drivers.
Pack A Purse Drive™ Ambassadors
Lisa Stearns – Ms. Biz Community
Shaunette Payne – Family and Friends
Latisha Lee – Sisters of Ruth #720
Linda Lee and Kimerlyn Butler – Rebecca #5
Volunteer Delivery Drivers
Michelle Macek
Laurena White
2020 Recipient Organizations
WIN Family Services
National Center for Children and Families
Sasha Bruce Youthwork
Covenant House Washington
KidsPeace
Howard County Department of Social Services
Prince George's County Department of Social Services Independent Living Program
Challenger Independent Living Program
Hearts & Homes for Youth
14 YEAR GRAND TOTAL:
Because of YOU, Pack A Purse™ Drive has collected and distributed 8,128 purses (plus many hundreds of wallets and cosmetic bags) to 71 youth serving organizations over 14 holiday seasons (2007-2020).
We hope and pray that 2021 will allow us to come back together to support teens girls in foster homes, group homes, and homeless shelters at pre-pandemic levels.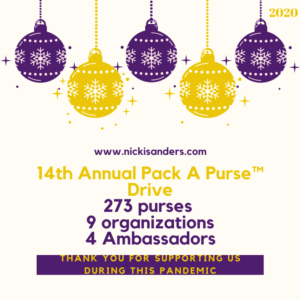 Nicki Sanders, MSW, CEO, is a travel and cupcake lover with an aptitude for authentic connection and career design. She has an extensive background in developing and managing successful programs and leading high-functioning multi-disciplinary teams. She is an accomplished professor, coach, trainer, and group facilitator who has merged her Master of Social Work degree and over 20 years of diverse work experience into a thriving business. Nicki Sanders Leadership Consulting helps businesses recruit and retain the best employees and helps women in mid-level management design the careers of their dreams.
© 2020 Copyright Protected. ALL RIGHTS ARE RESERVED.