I joined the Ultimate Blog Challenge for May 2021 because I wanted to do 3 things:
Take on a new challenge or project
Increase traffic on my blog
Share more authentic stories and strategies with my audience
I have been blogging three days per week – Monday, Wednesday, and Friday – for close to a decade. I have challenged myself to blog 7 days a week for 4 ½ weeks this month. One full week in and I'm questioning whether I will make it through the month successfully with the other projects that I have going on. (By the way, my Uplevel Your Position Email Course is going well!)
I'm planning to stay on course…but you may get a few random musings!!
Here are 16 Topics I Could Blog About This Month…But I'm Sure That I Won't:
My Favorite Recipe
The Coronavirus Vaccine
My Favorite Country Songs
Bacon or Pizza
The Benefits of a Family Pet
Self-Defense
Cyber-Bullying
Best Swimsuits for Your Body Type
The Best Hallmark Channel Christmas Movies
What I Won't Do In June 2021
What I Would Do If I Had 6 Months to Live
A Beginner's Guide to Blogging
Should We Impose a Limit on the Number of Movie Sequels Allowed?
Eliminating Money Blocks
My Most Embarrassing Moment
An Open Letter to Vice President Kamala Harris
What topics would you like me to write about? I'm accepting suggestions!
Follow me Nicki Sanders Leadership Consulting (@nickisandersceo) on Facebook, Instagram and Twitter. Meet me back here tomorrow for my next blog post!!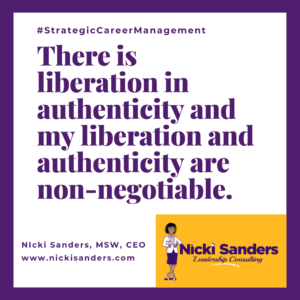 Nicki Sanders, MSW, CEO, is a Career and Empowerment Strategist who helps high-performing women of color in management go from overworked, underpaid, and unappreciated to energized, well paid, and appreciated. Through Nicki Sanders Leadership Consulting, she also helps businesses recruit, hire, train, and retain great employees. Nicki has an extensive background in developing and managing successful programs and leading high-functioning multi-disciplinary teams. She is an accomplished professor, coach, trainer, and group facilitator who has combined her gift for authentic relationships, Master of Social Work degree, and over 20 years of diverse work experience to create a life she loves. Nicki is a lover of cupcakes, travel, and 80's hip hop and R&B music.
© 2021 Copyright Protected. ALL RIGHTS ARE RESERVED.