In 1974, President Richard Nixon, through executive order, proclaimed one week in April as National Volunteer Week, a week to celebrate and recognize the efforts of all individuals who volunteer.
National Volunteer Week was created as an opportunity to celebrate the impact of volunteer service and the power of volunteers to tackle society's greatest challenges, to build stronger communities and be a force that transforms the world. National Volunteer Week has expanded into the entire month of April. April became National Volunteer Month as part of President George H. W. Bush's 1000 Points of Light campaign in 1991. Each April we shine a light on the people and causes that inspire us to serve. We recognize and thank volunteers who give of their time, talent, and voices to improve their communities and our global community. We recognize all the ways that people get involved – in person, online, one-time, short-term, and long-term – additionally, we use April to encourage more volunteerism.
2019 Pack A Backpack Drive™
Our Annual Pack A Backpack™ Drive began on Monday, April 1, 2019 and ends on Monday, May 6, 2019. We are collecting backpacks (and duffel bags) filled with personal hygiene items for teen boys in foster homes, group homes, and homeless shelters. Personal hygiene items requested include toothbrush, toothpaste, mouthwash, deodorant, lotion, and soap. Backpacks will be delivered in May during National Foster Care Month. Our goal is 150 filled backpacks.
Take Our Daughters And Sons To Work Day 2019
Designed to be more than a career day, the Take Our Daughters And Sons To Work program goes beyond the average practice of "shadowing" an adult. Exposing girls and boys to what a parent or mentor in their lives does during the work day is important, but showing them the value of their education, helping them discover the power and possibilities associated with a balanced work and family life, providing them an opportunity to share how they envision the future, and allowing them to begin steps toward their end goals in a hands-on and interactive environment is key to their achieving success. Workforce Development For All is the 2019 theme for Take Our Daughters and Sons to Work Day, which will be held on Thursday, April 25th, 2019.
Traditionally, companies have reserved participation to the children of employees. Take Our Daughters And Sons To Work Day is a great opportunity for your company to include young people who do not have a parent, guardian, or mentor with whom they can attend work. You ma also consider adopting a school or class or even an organization such as a group home for foster youth. If the program is carefully planned in consultation with managers and staff, it should disruptions to normal business operations should be limited. Company participation can also help build morale among employees.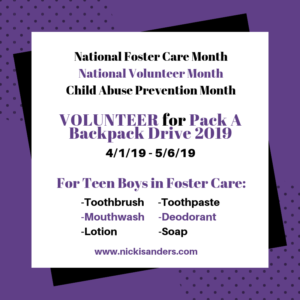 Nicki Sanders, MSW, is a travel and cupcake lover with a passion for self-discovery and career advancement. She has an extensive background in developing and managing interns and successful internship programs. She is an accomplished supervisor, professor, coach, trainer, and group facilitator who has merged her Master of Social Work degree and 20 years of diverse work experience into a thriving business. Nicki Sanders Consulting helps businesses increase employee recruitment and retention and helps managers uplevel their leadership skills.
© 2019 Copyright Protected. ALL RIGHTS ARE RESERVED.