Sometimes we think we have the perfect internship opportunity that will cause the brightest students to beat down our doors to apply. Sometimes we receive tons of resumes and none of the applicants meet our qualification. There can be many reasons why we may be unable to find our Super Intern. Did you ever consider that the most qualified applicants may not even apply for the positions? Here are 5 reasons why students avoid internships:
1. Student is not required to complete internship to receive their degree.
Despite the competitive job market and opportunity for hands-on learning, many universities do not require all students to complete an internship in order to graduate.
2. Student doesn't understand the value of an internship.
Application of classroom knowledge, networking opportunities, and "trying out" a career are only three of the benefits of completing an internship.  Unfortunately, many students do not know what value and open doors a quality internship can offer.
3. Student doesn't know how to find a meaningful internship.
The process of finding a quality internship can be overwhelming and intimidating.  Some students need hands-on assistance and are unable to find someone to walk them through the process.  Other students are unaware of all the free opportunities and resources available to them.
4. Student is afraid of being taken advantage of or mistreated.
We've all heard about interns being yelled at, forced to make coffee or pick up the bosses dry cleaning, or having their ideas stolen by an employee.  Even if the likelihood of similar occurrences is low, many students are afraid to take the risk and simply avoid internships because they don't want to be relegated to "free labor".  They are seeking a meaningful learning opportunity where they can make a valuable contribution.
5. Student may not be able to bear the financial burden of internship.
Many internships are unpaid.  Many college students are employed, sole financial providers, or contributing to their family income and are unable to dedicate hours of time to a company without financial compensation.
Originally published by Nicki Sanders on LinkedIn.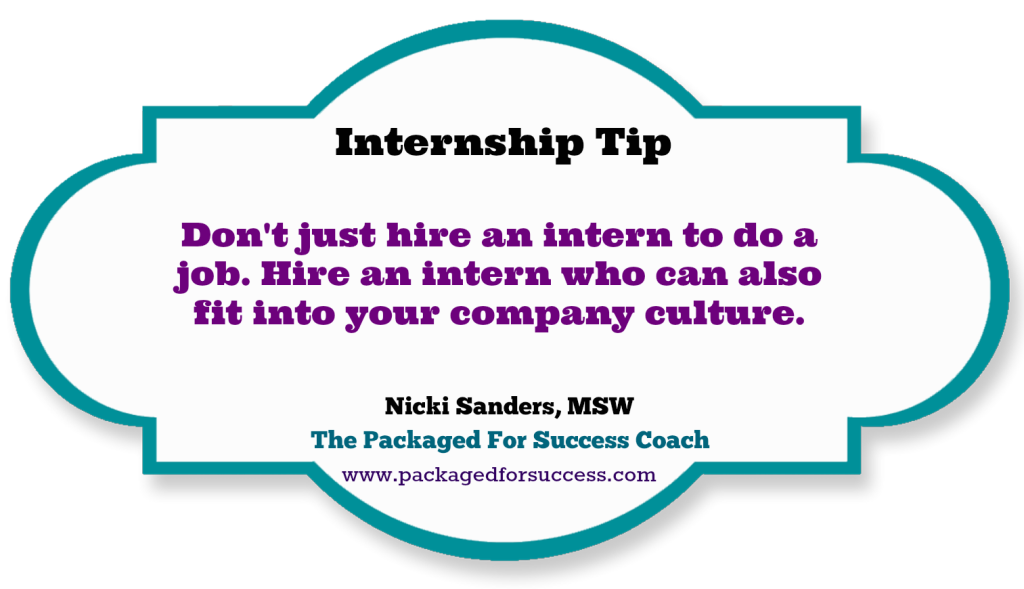 Nicki Sanders, The Packaged For Success Coach, is an Adjunct Professor with an extensive background in developing and managing internship programs. She is a skilled program manager, coach, trainer, and group facilitator who has packaged her Masters of Social Work degree and 20 years of work experience into Packaged For Success, a full service training and professional development company.
© 2016 Copyright Protected. ALL RIGHTS ARE RESERVED.