Hosting interns is a great way to grow your business while building a strong workforce. Paying your interns has benefits for your company and your intern. 5 Reasons to Pay Your Interns:
To be fair – Interns do work and should be compensated accordingly
To increase your pool of talented candidates – Qualified potential interns may not be able to afford to accept an unpaid internship or may be available less hours because they have to hold a paying job
To assign substantive work LEGALLY – Remember the Fair Labor Standards Act (FLSA)
To stimulate your local economy – Interns will spend the money they earn
To increase intern satisfaction – Paid interns are generally more committed, connected, and content
Related Posts:
Contact me if you require additional support to develop a strong internship program that allows your business to increase your productivity and profits.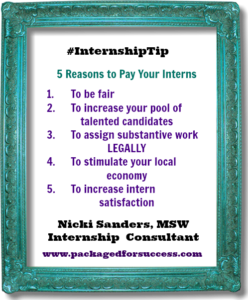 Nicki Sanders, The Packaged For Success Coach, is an Adjunct Professor with a passion for business and career development. She has an extensive background in developing and managing interns and successful internship programs. She is a skilled manager, coach, trainer, and group facilitator who has packaged her Master of Social Work degree and 20 years of work experience into Packaged For Success, a full service training and professional development company.
© 2017 Copyright Protected. ALL RIGHTS ARE RESERVED.