Interns often have a selection of placements to choose from. Monetary compensation is important but not always the deciding factor.  In order to recruit and retain the best interns, companies also need to guarantee substantive learning and offer unique perks. Helping your intern develop a career portfolio is a unique benefit not offered by many companies. If your intern feels valued and understands how they contribute to the overall mission they will be more engaged, motivated, and passionate about their work. A career portfolio will help you ensure that your intern has a valuable learning experience and acquires transferable professional skills.
Internship Tip: Selecting contents for a career portfolio together will help both manager and intern to address and evaluate performance and learning,
Unsure how to help your intern develop a career portfolio? Email Nicki to bring this Train the Trainer program to your company.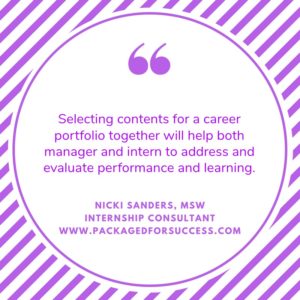 Related Posts:
Nicki Sanders, The Packaged For Success Coach, is an Adjunct Professor with a passion for business and career development. She has an extensive background in developing and managing interns and successful internship programs. She is a skilled manager, coach, trainer, and group facilitator who has packaged her Master of Social Work degree and 20 years of work experience into Packaged For Success, a full service training and professional development company.
© 2017 Copyright Protected. ALL RIGHTS ARE RESERVED.