If you want your intern to give their best don't treat them like temporary help.  Show your intern that you value them and want to help them succeed.
5 Ways to Make Your Intern a Part of Your Team
Set Realistic Goals – Give thought to how your intern will be a part of your business present and future. Have a plan – don't invite them into chaos.
Communicate Effectively – Don't ignore your intern and don't assume they have the knowledge and skills to do all that you ask of them, and don't talk down to them.
Get To Know Them – Find out who your intern is personally and professionally. Learn their strengths and weaknesses and hobbies and aspirations.
Encourage Them – Provide opportunities for your intern to share their ideas and perform meaningful work. Celebrate their successes
Mentor Them – Share your challenges and accomplishments, teach, model professional behavior, and introduce them to professionals who can help boost their career.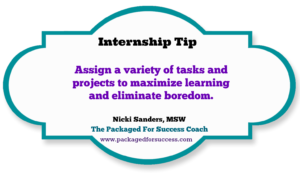 Nicki Sanders, The Packaged For Success Coach, is an Adjunct Professor with a passion for business and career development. She has an extensive background in developing and managing interns and successful internship programs. She is a skilled manager, coach, trainer, and group facilitator who has packaged her Master of Social Work degree and 20 years of work experience into Packaged For Success, a full service training and professional development company.
© 2017 Copyright Protected. ALL RIGHTS ARE RESERVED.