Do you know the average salary for your position?
Do you know how much your coworkers earn? Some companies have a written policy preventing employees from discussing their salaries. Other companies are committed to equitable salaries and ensure that staff are paid the same salaries for the same work.
I've spent the last decade working with and for women and girls – as a direct line staffer, a manager, a mentor, a professor, and a career coach. What I know for sure from my own experience as well as the experiences of family, friends, and colleagues is that women are historically socialized to be humble, accommodating, and grateful. Confidence, self-promotion, and a focus on money are seen as positive traits in men and often condemned in women. Putting too much emphasis on being liked, nurturing, and accommodating leads to poverty. The expectation of being the "good girl" and not the greedy/nasty #####, has kept many women in a constant state of being underpaid.
One of my favorite books is "Overcoming Underearning" by Barbara Stanny. In her book, Barbara describes 'underearners' as having a high tolerance for low pay, a willingness to work for free, and a belief that there is nobility in poverty. Even women who desire to earn more money often are uncomfortable asking for the wages they deserve. According to PayScale's The State of the Gender Pay Gap 2020, women earn $0.81 for every dollar a man earns. Women of Color earn $0.75 for every dollar a White man earns. It has also been reported that only 7% of women negotiated their salary last year which equates to men negotiating their salaries eight times more than women.
To overcome underearning or go from underpaid to well-paid, research the position, be clear about what you want to earn, be confident in the value you bring to the workforce, practice asking for what you want, advocate for yourself, and be willing to walk away if you cannot reach an acceptable agreement.
You are a high-performing woman who deserves a high salary. If you need help negotiating your salary, developing your career goals, implementing a career development strategy, or holding yourself accountable as you pursue your career goals? I got you! It's what I love! It's what I do!
I'm ready to provide the career resources and support that you need to take your career, and your salary, to the next level.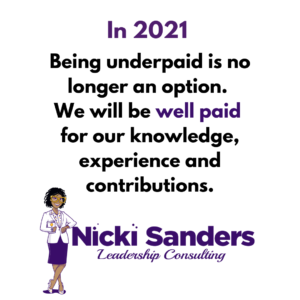 Nicki Sanders, MSW, CEO, is a Career and Empowerment Strategist who helps high-performing women of color in management go from overworked, underpaid, and unappreciated to energized, well paid, and appreciated. Through Nicki Sanders Leadership Consulting, she also helps businesses recruit, hire, train, and retain great employees. Nicki has an extensive background in developing and managing successful programs and leading high-functioning multi-disciplinary teams. She is an accomplished professor, coach, trainer, and group facilitator who has combined her gift for authentic relationships, Master of Social Work degree, and over 20 years of diverse work experience to create a life she loves. Nicki is a lover of cupcakes, travel, and 80's hip hop and R&B music.
© 2021 Copyright Protected. ALL RIGHTS ARE RESERVED.