An advocate is a person who publicly supports or recommends a particular cause or policy. I believe that an internship supervisor/manager should be a mentor and an advocate for their intern.
I'm clear that it is not your responsibility to figure out your intern's professional goals and needs but it's important to recognize that speaking up for yourself in a professional way can be intimidating. It is my belief that by creating a work environment that allows your intern to practice self-advocacy skills – ask questions, express their concerns, and share their ideas – you are in fact being an advocate for them.
Self-advocacy entails:
• Asking for what you want or need
• Speaking up on your own behalf
• Expressing your preferences and interests
• Negotiating terms based on your needs
• Asking clarifying questions and making informed decisions
• Knowing and exercising your rights
• Understanding your responsibilities, strengths and limitations
Self-advocacy builds self-confidence and independence. A more confident intern will take a more active role in their professional development. A more confident intern will clarify priorities and deadlines, ask for more help, take more calculated risks, and achieve more tangible outcomes. A work environment that values self-advocacy will ultimately increase the quality and quantity of an intern's work.
This creates a mutually beneficial partnership.
Originally published by Nicki Sanders on LinkedIn.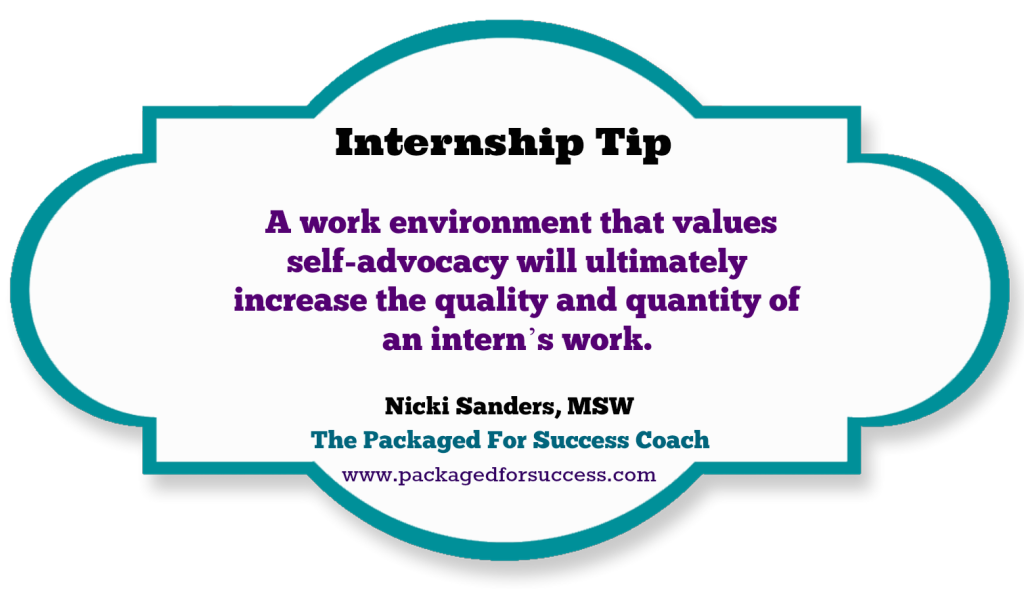 Nicki Sanders, The Packaged For Success Coach, is an Adjunct Professor with an extensive background in developing and managing internship programs. She is a skilled program manager, coach, trainer, and group facilitator who has packaged her Masters of Social Work degree and 20 years of work experience into Packaged For Success, a full service training and professional development company.
© 2016 Copyright Protected. ALL RIGHTS ARE RESERVED.