Conversations with Nicki Sanders is a regular blog feature for Nicki Sanders Consulting. Conversations with Nicki Sanders will highlight the success strategies, advice, and careers of various professionals in a variety of industries.
March is National Social Work Month. To commemorate Social Work Month, I will interview Social Workers Managers about their management journey. The purpose of my Conversations with Nicki Sanders Social Work Month Managers blog series is to:
Promote the social work profession and show the diversity in social work careers
Promote best practices in employee recruitment and retention
Promote a healthy work environment by offering productivity and performance strategies
Eliminate stereotypes about the social work profession
Showcase Social Work supervisors who are developing strong teams and making positive impact in the world
Fun Fact: This is our 2nd Annual Social Work Month Blog Series
Do you or someone you know fit into any of these professional categories?
Executive Director
Field Coordinator
CEO/Founder
Program Manager
Clinical Supervisor
Of course, the Social Work manager job title list doesn't end there! Management is a very diverse field and I want to showcase the diversity in work environments and management styles.
Whether this is your first management position, or you have been managing teams for decades, share your experience with us. Whether you work in a nonprofit organization or run a for profit company, I want to talk with you. Whether you are managing interns or managing other managers, we want to hear from you.
To nominate yourself or someone else for this Social Work Month blog series, please complete below: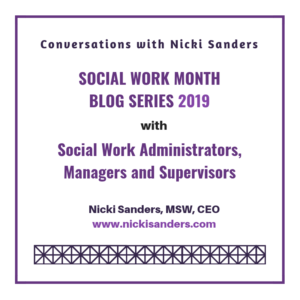 Nicki Sanders, MSW, is a travel and cupcake lover with a passion for self-discovery and career advancement. She has an extensive background in developing and managing interns and successful internship programs. She is an accomplished supervisor, professor, coach, trainer, and group facilitator who has merged her Master of Social Work degree and 20 years of diverse work experience into a thriving business. Nicki Sanders Consulting helps businesses increase employee recruitment and retention and helps managers uplevel their leadership skills.
© 2019 Copyright Protected. ALL RIGHTS ARE RESERVED.