In 2014, new internship guidelines were issued by the US Department of Labor.  Are you aware of the changes? Ignorance can be costly. Companies have been successfully sued by their former interns in recent years. Don't let this happen to you.
I also encourage not to let the guidelines scare you away from welcoming interns into your business.  Offering a high quality internship program is an excellent way to increase your productivity and profits without skyrocketing your expenses.  With the right training and support, interns can become valuable members of your team.  An internship program is also a great way to give back to your community by teaching and mentoring a new generation of employees and entrepreneurs.
Packaged For Success has developed a 10 step internship program development system which can be adapted to meet the unique needs of businesses and nonprofit organizations. We offer three program development options.  Each option comes with a completed internship manual that includes a table of contents, assessments, success strategies, issue exploration, and templates.
Option 1: Self-Paced Program
Do It Yourself Option
Standard program manual
No individual consultation or customization
Option 2: Program Assistance
Development of internship program with consultation from Packaged For Success
'Done with you' option
Weekly telephone
Email support
Option 3: Program Implementation
Packaged For Success will take the lead on implementation of your program
'Done for you' option
All tasks from needs assessment to on-boarding performed by Packaged For Success
May require both in-person and electronic consultation and communication
Contact me to discuss which option is right for you?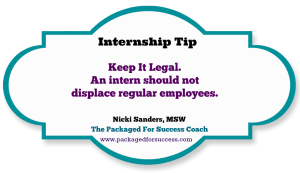 Nicki Sanders, The Packaged For Success Coach, is an Adjunct Professor with an extensive background in developing and managing internship programs. She is a skilled program manager, coach, trainer, and group facilitator who has packaged her Masters of Social Work degree and 20 years of work experience into Packaged For Success, a full service training and professional development company.
© 2016 Copyright Protected. ALL RIGHTS ARE RESERVED.