There are some managers who are very tech savvy and others who are unsure or uninterested in bringing current technology to their businesses. Where do you stand on the spectrum?
These days it's pretty to run a successful business without integrating technology. An email service and an internet connection are bare minimum essentials.  It can also be difficult to find a business that does not have a website and a Facebook. Twitter, and/or Instagram page. Social media is not only the norm, but it has become the client expectation.
Technology can be a great business asset.
Technology allows us to streamline our processes and procedures for a more efficient company.
Technology allows clients to connect and purchase our products and services from the other side of the world.
Technology allows potential job applicants to learn about our awesome workplace 24 hours a day and 7 days a week.
Technology allows us to interface with potential partners in their conference room from our conference room.
Technology allows us to monitor our profits and losses from our office instead of our banker's office.
Technology can allow us to skip the two-hour commute but still meet our deadlines.
Just as in life, there can also be a downside to technology in business.
System failures or interruptions can put a stop to business for hours or days.
Employees may rely too heavily on technology and put less effort into their work.
Employees may be less productive because they are distracted by cell phones, social media, or emails.
Emails, text messages, or instant messages leave the door open to miscommunication and misunderstanding.
Staff can feel less connected or abandoned when technology is the main form of communication.
Staff may feel devalued or insecure as job functions are replaced by technology.
Technology can also add pressure to perform at a certain level and can blur the work/life balance lines. Managers may expect employees to be available through technology after normal work hours. Workers may feel that they must constantly adapt to new methods of technology and learn new technological skills. Laptop computers, tablets, and cell phones make it easy to sleep less, skip meals, work longer hours, and stay connected to work.
Disconnecting from technology can make you a better manager because the disconnection will allow you to rejuvenate and relax then return to support your staff with more patience and understanding.
Disconnecting from technology can make you a better manager because your staff is more engaged and less tense when you are not electronically hounding them or interrupting valuable family or leisure time.
Disconnecting from technology can make you a better manager because you can avoid burnout and become a self-care role model to your staff.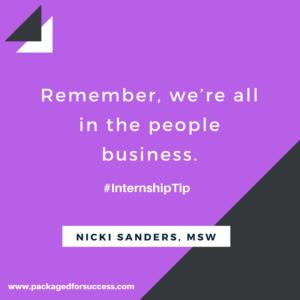 Nicki Sanders, MSW, is a travel and cupcake lover with a passion for self-discovery and career development. She has a strong background in developing and managing interns and successful internship programs. She is an accomplished manager, professor, coach, trainer, and group facilitator who has packaged her Master of Social Work degree and 20 years of diverse work experience into Packaged For Success, a full service training and professional development company.
© 2018 Copyright Protected. ALL RIGHTS ARE RESERVED.