I LOVE college students – teaching in the classroom and serving as an Internship Supervisor. I really miss doing both right now.
Some of you may not understand this, but as an introvert and a creative, I need to miss my students LOL. I teach in the fall, use winter break to rejuvenate, then take the spring semester off. I really miss my students from January to August. I am so excited to walk back into the classroom in August. Then I do it all again the next year.
Teaching virtually last fall was exhausting and unfulfilling for me. I'm ready to go back to in person learning – I am Zoomed out! Yes, me and all my coronavirus anxiety misses my students and I want to see them in person again. I haven't decided if I will return to internship program consulting and provide supervision to interns in agencies without an onsite supervisor.
To the Class of 2021, I celebrate you!
I celebrate your resilience and commitment!
I celebrate your perseverance and your accomplishments!
CONGRATULATIONS!
Despite a year-long global health pandemic, virtual learning, injustice, political strife, and economic hardship, you persevered! I am so proud of you and happy for you.
The traits that carried you successfully through senior year will continue to usher in success throughout your life. Hold on to them:
Flexibility
Connection
Optimism
Gratitude
Intentionality
"You are educated. Your certification is in your degree. You may think of it as the ticket to the good life. Let me ask you to think of an alternative. Think of it as your ticket to change the world." —Tom Brokaw
CONGRATULATIONS Again!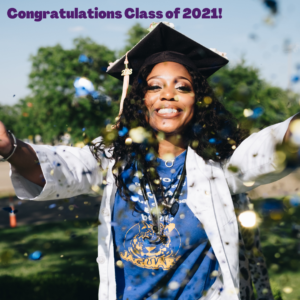 Nicki Sanders, MSW, CEO, is a Career and Empowerment Strategist who helps high-performing women of color in management go from overworked, underpaid, and unappreciated to energized, well paid, and appreciated. Through Nicki Sanders Leadership Consulting, she also helps businesses recruit, hire, train, and retain great employees. Nicki has an extensive background in developing and managing successful programs and leading high-functioning multi-disciplinary teams. She is an accomplished professor, coach, trainer, and group facilitator who has combined her gift for authentic relationships, Master of Social Work degree, and over 20 years of diverse work experience to create a life she loves. Nicki is a lover of cupcakes, travel, and 80's hip hop and R&B music.
© 2021 Copyright Protected. ALL RIGHTS ARE RESERVED.