What is your favorite day of the week?
Monday is not the answer for most people. Mondays are not bad, but we associated Mondays with negative experiences. Social media memes notoriously help spread the idea that Mondays are horrible. It doesn't have to be this way!
Do you find yourself in a no-so-great mood at the start of each work week? You are not alone. Sunday Night Blues are a real thing. Even employees who love their jobs often experience Sunday Night Blues.
Sunday Night Blues are the work and school thought(s) that only cross your mind during the weekend. Employee sadness, anxiety, and despair often begin on Sunday. But why? Sunday Night Blues show up based on the realization that the fun and leisure of the weekend is coming to an end and the pressure and responsibility of the upcoming work week is nearing.
Sunday Night Blues can ruin your weekend if you let them. Some people dread Monday morning on Friday night. They feel like their time off is over before it truly begins. Others see Sunday as the start of the work week instead of the ending of a great weekend. Don't let this type of worry and sadness become your norm. You can redirect your attention to enjoyable activities and the people that matter most.
Here are a few ways to combat Sunday Night Blues:
Know your triggers. Determining your outfit and packing your lunch for Monday can even be a trigger for some while it may provide order and clarity for others.
Leave your work brain at work before you head home on Friday. Do a mental end of week recap, write and review your wins, address all urgent emails, check your calendar and draft a "to do" list for the following week.
Turn off your work cell phone. Unplug from work email and social media and resist the urge to work on your time off.
Keep a professional journal where you record your wins and challenges but also have an opportunity to process your actions and emotions safely and confidentiality.
Eat well, exercise, and get adequate rest.
Schedule fun and entertainment into your weekend. Spend time with people who matter most and whose company you enjoy. Do something new and exciting. Leave room for spontaneity.
Consider creating a new Sunday routine.
Feed your mind a healthy diet of positivity – meditation, music, media, affirmations, relationships, quotes, etc.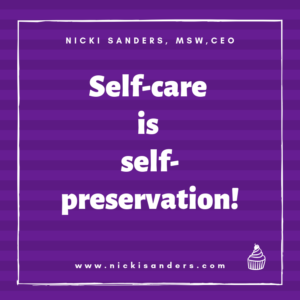 Nicki Sanders, MSW, is a Leadership and Career Strategist who helps mid and senior level women leaders develop the confidence, competence, and credibility to lead with authenticity and boldness. She has an extensive background in leading multi-disciplinary teams, developing and managing programs, and forming public-private partnerships. She is a college professor with a passion for teaching and mentoring the next generation of leaders. Nicki is an accomplished supervisor, trainer, and group facilitator who has merged her Master of Social Work degree and over 20 years of diverse work experience into a thriving business. Nicki Sanders Leadership Consulting assists companies in expanding their influence and impact by enhancing employee recruitment, increasing employee morale and performance, and decreasing employee turnover. Nicki is a travel and cupcake lover who also enjoys reading, listening to music, and serving her community.

© 2019 Copyright Protected. ALL RIGHTS ARE RESERVED.