The Top 4 Skills New Graduates Need to Improve
Work on these areas and get ahead of the curve.
By Hannah Morgan
College taught you many things, but learning doesn't end once college is over. Throughout your career, you need to keep upping your skills.
How prepared are recent college graduates for their first jobs? Managers say these employees lack several hard and soft skills. No matter how confident you may be with your abilities, you'll want to address the top skills employers think you lack.
In the 2016 Workforce-Skills Preparedness Report, done jointly by PayScale, Inc., a compensation data and software provider, and Future Workplace, an executive development firm, the takeaway stat is that 87 percent of new college graduates feel well-prepared for their job upon graduation. Yet, only about half of the managers surveyed felt that their employees who recently graduated from college were well-prepared for the workforce. These are the top four skills you should focus on improving if you want to fall into the latter group, along with some tips on how to do it.
Improve your writing. You may have written papers in college, but those papers are not the same as business writing. Concisely communicating through email with co-workers, managers, clients and customers is different. Roughly 44 percent of managers cited writing proficiency as the top skill lacking in their new-graduate hires. To improve your writing skills, remember the basic rule of communication. You are writing for your audience. Your brief message should revolve around their needs, wants and priorities. The best way to do this is to address the five w's: who, what, where, when and why. You may also need to include the answer to how in your written communication. By no means is this easy. There are apps like Grammarly and Hemingway App to help spiff up your writing. You might want to consider enlisting help from a mentor. The best tip to improve your writing skills is to read and write more, so dedicate time to do these activities.
Improve your public speaking. Public speaking is one of the most feared and disliked activities, but don't let this get in your way of success. This was the second-ranked skill employers were disappointed in. Public speaking isn't just speaking in front of a large audience. It includes communicating during meetings as well. If you get nervous speaking in front of people, start by outlining the key points you want to make. Don't write a word-for-word script. You're likely to forget some lines. Instead, create bullet points you can easily reference if you need to. Pay special attention to what you will say at the start and end of your presentation, because those are the parts your audience is most likely to remember. And don't try to wing it. Build your confidence by practicing out loud in front of a mirror or record it on your smartphone. You may want to identify a mentor to provide you with meaningful feedback.
Learn how to analyze data. If you haven't had the opportunity to analyze data using software like Excel, Tableau, Python or R, you will need to. This ability ranked third in the top skills managers found lacking. Data is everywhere and impacts almost every role in an organization, from accounting to customer service. There are lots of free online courses you can take that will teach you how to use some of these data analysis software tools. You may need to take initiative and ask to work on a special project to develop these skills if your daily job doesn't often require you to interact with data.
Become a critical thinker. About 60 percent of employers said critical thinking and problem solving skills were the top soft skills lacking among new college-graduate employees. How you manage a crisis or respond to conflict could be a measure of these skills. Since you are relatively inexperienced at handling business scenarios, you'll need some guidance. Fixing some of these problems in the workplace is not necessarily intuitive. Tap a mentor and ask for help evaluating solutions to some of the situations you've handled in the past. Read articles and case studies and create your own step-by-step resolutions, which should improve your critical thinking.
One final thought. Maintain the mindset of a life-long learner and continue to update skills and learn new things throughout your career.
Original article published on US News & World Report.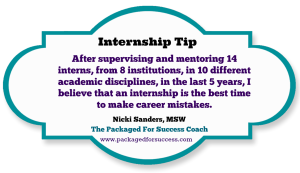 Nicki Sanders, The Packaged For Success Coach, is an Adjunct Professor with an extensive background in developing and managing internship programs. She is a skilled program manager, coach, trainer, and group facilitator who has packaged her Masters of Social Work degree and 20 years of work experience into Packaged For Success, a full service training and professional development company.
© 2016 Copyright Protected. ALL RIGHTS ARE RESERVED.