Internships offer interns the opportunity to receive on the job training, build a strong professional network, and confirm a career interest.  Internships are also beneficial for businesses, nonprofit organizations, and entrepreneurs that host interns.  Not everyone agrees with my opinion. The reasons for the disagreement varies with each individual but I believe that there are many misconceptions about interns and internship programs.
Don't believe these 5 myths about interns.
Myth #1: Interns complete internships because they don't have other career options
Students complete internships for a variety of reasons.  An internship is a learning arrangement and students often have other academic options at their disposal such as capstone projects and independent research courses.  Generally speaking, internships are plentiful.  Most interns have several employment and internship options.
Myth #2: Interns don't need to be paid
How interns are compensated depends on the organization they join.  If companies are unable to offer paid internships, I recommend offering benefits such as a food or travel stipend. They are giving of their time and skills and deserve some sort of compensation.  Interns are more than free or cheap labor.
Myth #3: Interns don't take their work seriously
Most interns are looking for more than a passing grade.  They want to learn while doing meaningful work.  They want to make a valuable contribution. They understand how valuable this experience can be for their future growth.
Myth #4: Interns don't need training
An intern joins a company to learn more about a particular field and to develop new skills. Teaching and training are essential to a successful internship.  Although an internship is a temporary arrangement, interns should receive orientation and guidance just like regular employees. Employers also should not assume that interns should know what to do.
Myth #5: Interns don't positively impact a company
Interns help companies increase profits and profitably because not only will the number of workers increase but interns also bring fresh ideas and new perspectives to organizations.
Related Post: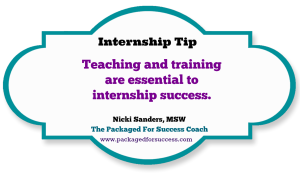 Nicki Sanders, The Packaged For Success Coach, is an Adjunct Professor with an extensive background in developing and managing internship programs. She is a skilled program manager, coach, trainer, and group facilitator who has packaged her Masters of Social Work degree and 20 years of work experience into Packaged For Success, a full service training and professional development company.
© 2016 Copyright Protected. ALL RIGHTS ARE RESERVED.