September brings cooler weather, shorter days, falling leaves, scurrying squirrels, Labor Day, and a collective back to school.
Did you know that September is also:
Self-Care Awareness Month
National Preparedness Month
International Update Your Resume Month
What is on your September priority list?
YOU…all roads point to YOU!!
As we celebrate the American worker this Labor Day, we are celebrating ourselves. Celebrate with an investment. Labor Day is a great time to invest in your next career level.
Make yourself a priority this month.
1) Develop an individualized self-care plan
Self-care is the practice of taking action to preserve or improve one's own health. Since many of us prioritize the needs of others over our own needs, Self–Care Awareness Month reminds us that taking care of ourselves, first and foremost, is essential. Self-care is not selfish, it allows us to take better care of others as well as our responsibilities. Since self-care is any activity that we do deliberately in order to take care of our mental, emotional, and physical health, what constitutes quality self-care is different for each person. Take the time to develop an individualized self-care plan
2) Assemble emergency/disaster kits and practice your plans
Emergencies can happen at any time. National Preparedness Month encourages and reminds Americans to be prepared for disasters or emergencies in their homes, businesses, and communities. Learn what emergencies or disasters are more likely to happen in your neighborhood and at what times of the year and develop a game plan to keep your family safe. The theme for 2019 is, "Prepared, Not Scared".
3) Update your resume for your dream job
It is always a great idea to have a current record of your work experience, education, skills, and achievements. Resumes are standard employment documents that are still valuable even in our digital world. The right job opportunity can show up at any moment. An updated resume also helps you avoid anxiety and confusion if unexpected employment disaster strikes.
Looking for information, support, and accountability as you climb the professional ladder?
I can help you with each of the areas above. I'm ready to work if you are!!
My Labor Day 50% off sale ends TODAY, Monday, September 2, 2019 on the following career services.
1. Career Advancement Package
2. Resume Review
3. Strategy Session
4. Interview Audit
Together we can uplevel your resume, strategically map out your next career move, and get you prepared for the interview for your dream management position.
REMINDER: 50% off sale ends TODAY at 11:59pm.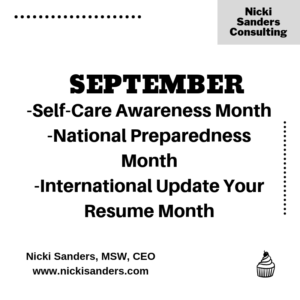 Nicki Sanders, MSW, is a Leadership and Career Strategist who helps mid and senior level women leaders develop the confidence, competence, and credibility to lead with authenticity and boldness. She has an extensive background in leading multi-disciplinary teams, developing and managing programs, and forming public-private partnerships. She is a college professor with a passion for teaching and mentoring the next generation of leaders. Nicki is an accomplished supervisor, trainer, and group facilitator who has merged her Master of Social Work degree and over 20 years of diverse work experience into a thriving business. Nicki Sanders Leadership Consulting assists companies in expanding their influence and impact by enhancing employee recruitment, increasing employee morale and performance, and decreasing employee turnover.  Nicki is a travel and cupcake lover who also enjoys reading, listening to music, and serving her community.

© 2019 Copyright Protected. ALL RIGHTS ARE RESERVED.