VICTORY…Welcome to 2021!
I am wishing you a new year filled with love, joy, adenvture, peace, healthy connections, prosperity, and good health.
Over the last few weeks, I pondered what my word 2021 will be a year – alignment, boldness, consistent, empowerment, flow, surrender visibility. I decided to stop wondering and let it come to me. The word that came to me this morning is COMPLETION!
In 2020 there was dismantling and tearing down so we could rebuild on a solid foundation. We clarified what we wanted and what we would no longer tolerate. This year, we will complete the reconstruction that began in 2020.
COMPLETION as in stand in faith believing what you pray for.
COMPLETION as in God will do a new thing.
COMPLETION as in stop wishing, wondering and waiting and make the leap.
COMPLETION as in finish what you started.
COMPLETION as in arrive at your next level.
COMPLETION as in "It Is Done"!
2021 Affirmation: I let go of my worries and welcome blessings and opportunites with bold action.
Replace fear with faith. Replace ambition with action. Replace wishing with working.
What will you complete in 2021?
What new thing are you praying that God will complete in your life in 2021?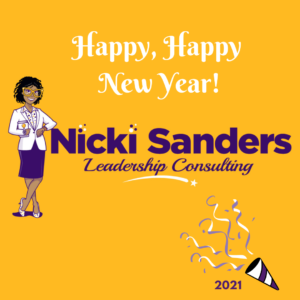 Nicki Sanders, MSW, CEO, is a Career and Empowerment Strategist who helps high-performing women of color in management go from overworked, underpaid, and unappreciated to energized, well paid, and appreciated. Through Nicki Sanders Leadership Consulting, she also helps businesses recruit, hire, train, and retain great employees. Nicki has an extensive background in developing and managing successful programs and leading high-functioning multi-disciplinary teams. She is an accomplished professor, coach, trainer, and group facilitator who has combined her gift for authentic relationships, Master of Social Work degree, and over 20 years of diverse work experience to create a life she loves. Nicki is a lover of cupcakes, travel, and 80's hip hop and R&B music.
© 2021 Copyright Protected. ALL RIGHTS ARE RESERVED.