A career sweet spot is the zone where you are utilizing your unique abilities, qualities, or a combination of both to perform at your best or function most effectively in work that you enjoy. I am a Career Strategist. My career sweet spot is career advancement. It's what I love and what I do well.
I have written and edited dozens of resumes and cover letters (and I do a good job at it LOL) but I excel at developing customized strategies to help ambitious professionals love the job they are in or fast track the path to the career of their dreams.
What sets me apart as a Career Strategist:
I flourished in the nonprofit/human services field for over 20 years.
I am a natural teacher who is skilled at simplifying theories, concepts, and processes.
I am a true introvert but I love people and am great at collaboration and building authentic relationships.
I am the coach and mentor who is able to recognize individual talents and strengths and see clearly how someone can maximize their potential.
My love of facilitating workshops and groups have given me greater insight into human behavior.
I am a systemic thinker who is always aware of the big picture.
I was always the employee that would figure out how to get the job done and get it done well. I have never left a job in 20 years and no one wonders how I managed to perform at the high level where I was performing.
I am a lifelong learner who is committed to increasing my knowledge bank.
My social work and sociology education, over a decade of experience as a hiring manager, and five years of teaching at the college level are additional assets.
Have you found your career sweet spot?
What do you love to do so much that you lose track of time?
What have you become the "go to" person for?
What comes so naturally to you that you can forget it may be a challenge for others?
Let's talk about how to leverage your career sweet spot in your Career Acceleration Session.
BOOK NOW! Schedule your Career Acceleration Strategy Session to accelerate your journey to your next career level. The regular investment is $297, but now through April 30, 2020, you can register for a Career Acceleration Strategy Session for the birthday investment of $129.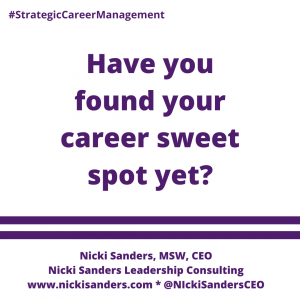 Nicki Sanders, MSW, CEO, is a travel and cupcake lover with an aptitude for authentic connection and career design. She has an extensive background in developing and managing successful programs and leading high-functioning multi-disciplinary teams. She is an accomplished professor, coach, trainer, and group facilitator who has merged her Master of Social Work degree and over 20 years of diverse work experience into a thriving business. Nicki Sanders Leadership Consulting helps businesses recruit and retain the best employees and helps women in mid-level management design the careers of their dreams.
© 2020 Copyright Protected. ALL RIGHTS ARE RESERVED.