Summer is my favorite season – hands down. There is no close second. The perfect temperature for me is 85 degrees combined with bright sunshine. By Labor Day, I am longing for another month or so of hazy, hot, and humid weather.  For many, Labor Day signals the "unofficial" end of summer as students head back to school, days are getting shorter, and there is a slight hint of cool temperatures entering the atmosphere. But Labor Day is so much more.
Have we forgotten the real meaning of Labor Day?
Labor Day, the first Monday in September, is a creation of the labor movement and is dedicated to the social and economic achievements of American workers. The holiday has a bloody history and came out of a long battle for workers' rights in the country. Presently, it constitutes a yearly national tribute to the contributions workers have made to the strength, prosperity, and well-being of our country.
On Sept. 5, 1882 — a Tuesday — 10,000 workers took unpaid time off to march in a parade from City Hall to Union Square in New York City as a tribute to American workers. Organized by New York's Central Labor Union, It was the country's first unofficial Labor Day parade.
The first governmental recognition came through municipal ordinances passed in 1885 and 1886. From these, a movement developed to secure state legislation. The first state bill was introduced into the New York legislature, but the first to become law was passed by Oregon on February 21, 1887. During 1887 four more states — Colorado, Massachusetts, New Jersey, and New York — created the Labor Day holiday by legislative enactment. By the end of the decade Connecticut, Nebraska, and Pennsylvania had followed suit. By 1894, 23 more states had adopted the holiday, and on June 28, 1884, Congress passed an act making the first Monday in September of each year a legal holiday in the District of Columbia and the territories.
According to the Bureau of Labor Statistics, there were 14.8 million union members in the workforce in 2017. There were 17.7 million in 1983.
How do you commemorate Labor Day?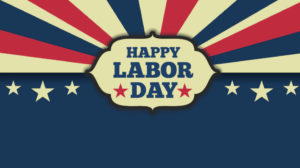 Nicki Sanders, MSW, is a travel and cupcake lover with a passion for self-discovery and career advancement. She has a strong background in developing and managing interns and successful internship programs. She is an accomplished manager, professor, coach, trainer, and group facilitator who has packaged her Master of Social Work degree and 20 years of diverse work experience into Packaged For Success Enterprises, a full-service training and professional development company.
© 2018 Copyright Protected. ALL RIGHTS ARE RESERVED.