I am a PBS Kid.  I grew up loving (not just watching) Sesame Street, Electric Company, and Mr. Rogers Neighborhood.  I was filled with joy and nostalgia when I learned that the documentary, "Won't You Be My Neighbor" was airing in my local theater.  The film did not disappoint.
As a child I was drawn to the genuine heart of Mr. Rogers.  It seemed that he always had something important to share and I needed to "slow down" to see it.  While other shows were more colorful and quick, I was never bored with Mr. Rogers.  As an adult, I fully understood just how important his life and message were to generations of young children. Mr. Rogers got it right – he understood that children were not little adults, that children are inherently special, and that children need a supportive adult during tough times.
Fred Rogers was knowledgeable and intentional. He embodied love, kindness, and inclusion.  I not only share his beliefs that television can be a vehicle for good but also that love is the basis of every relationship and connection – or lack thereof.
I was unaware that Mr. Rogers' messages that children are special just because they are born and that love and acceptance are human needs that every individual deserves led some to blame him for a generation of spoiled, entitled adults. I don't see the connection between the two. The fact Fred Rogers experienced bullying and spent a lot of time alone as a child due to illness but did not become a bully or a murderer makes me love and respect him even more. He was a true role model – an overcomer, an advocate, and a connector.
The decades old show themes are eerily relevant to the state of America today. I was unaware, but not surprised to learn, that Mr. Rogers was an ordained minister and Republican. If you read my Independence Day post, "FREEDOM To Express My Views", you can probably tell that I am saddened and frustrated by the state of our country.  I wish that every major cable and broadcast network would air 24-hour Mr. Rogers Neighborhood episodes for a few days straight.  I would also propose that the President, every Trump cabinet member and high-level staffer, every Supreme Court Justice, and every member of Congress and the House of Representatives is mandated to watch the reruns. The impulsivity, division and hatred we see in this country is benefiting only a select few and it doesn't have to be this way.
Won't You Be My Neighbor couldn't have been released at a more appropriate time.  I want to be Mr. Rogers' Neighbor. We need the philosophy of Fred Rogers now more than ever before.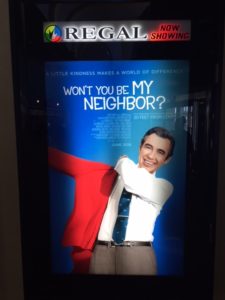 Nicki Sanders, MSW, is a travel and cupcake lover with a passion for self-discovery and career advancement. She has a strong background in developing and managing interns and successful internship programs. She is an accomplished manager, professor, coach, trainer, and group facilitator who has packaged her Master of Social Work degree and 20 years of diverse work experience into Packaged For Success Enterprises, a full service training and professional development company.
© 2018 Copyright Protected. ALL RIGHTS ARE RESERVED.