7/4/18 – The day I wrote my resignation letter from the longest job I've ever held – exactly 11 years.
It was also the absolute best job I've ever had while simultaneously being the worst job I've ever held.
The BEST job I ever had because I absolutely loved my amazing team, the amazing teen girls and women we supported, the interns I was able to teach, the work we were able to do, and the skills I was able to develop, strengthen, and utilize. No day was the same. I set my schedule and my work priorities. I got to see teen girls graduate high school and college and get married and land jobs. My Executive Director and I were able to rebrand and expand an agency with over 100-year history and elevate its position in the DC area. I was able to see the impact and influence of our work and it did my heart good.
The WORST job because in the process of rebuilding and expanding I lost myself. By the time I wrote my resignation I was feeling overworked, underpaid, and unappreciated. Internal and external challenges began to weigh on me. I began to feel angry, but I knew there was really a problem when I began to feel sad. My truth is that should have left years before I wrote that resignation letter.
Everyone talks about staying at a job because of fear. Not many want to talk about staying because of toxic loyalty or an unhealthy emotional attachment.
You're doing a great job.
The staff love you because you advocate for them.
The girls need someone who understands them and puts their needs first.
You're making a difference.
I've heard it ALL!
I received both internal and external praise, but it wasn't the answer.
I could write a book about all the things we experienced as an agency, as a team, and as individuals. You don't want to know all the negative things teen girls experience at home, in school, in their community, and in their relationships. It began to feel like I was putting a band-aid on a bullet wound. But…every so often something amazing and beautiful would happen and I would be lulled back into continuous toxicity. At some point it became self-sacrifice. I had to ask myself why I was staying for them instead of leaving for me? Ask yourself this question today.
You know it's time to leave that job, but you keep saying but!
But It's not all bad.
But what if I can't find a job that pays me the same?
But what if I get to a new job and it's worse?
But I have free parking.
But I have flexibility now and I don't want to be micromanaged.
But I'll wait until my kid is in middle school.
But these are all excuses, and these excuses are keeping you stuck and stagnant. We do not go to work to become martyrs. If you are being depleted mentally and emotionally and not growing professionally, it's time to save yourself. What are you really waiting for? Indecision can be a costly decision. Your indecision is costing you time, adding unnecessary stress, and decreasing your earnings potential.
If you don't know how to sever the emotional attachment, then we should discuss how to safely detach in a Career Acceleration Strategy Session.
If you think you are ready to draft your resignation letter but want additional support before developing your exit strategy, you can enroll n my Uplevel Your Position Career Development Course.
Decide to move forward by moving on because you know deep down inside that it's time to go! Now it's time to believe that you can have what you desire and deserve in your career!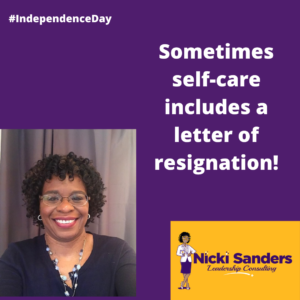 Nicki Sanders, MSW, CEO, is a Career and Empowerment Strategist who helps high-performing women of color in management go from overworked, underpaid, and unappreciated to energized, well paid, and appreciated. Through Nicki Sanders Leadership Consulting, she also helps businesses recruit, hire, train, and retain great employees. Nicki has an extensive background in developing and managing successful programs and leading high-functioning multi-disciplinary teams. She is an accomplished professor, coach, trainer, and group facilitator who has combined her gift for authentic relationships, Master of Social Work degree, and over 20 years of diverse work experience to create a life she loves. Nicki is a lover of cupcakes, travel, and 80's hip hop and R&B music.
© 2021 Copyright Protected. ALL RIGHTS ARE RESERVED.