How did we get here?
I ask myself that question multiple times a week! The state of this country is disheartening and embarrassing. It's time to shift the pendulum in the opposite direction.
The more important question is how to we get out of here? Please VOTE!
Many died for me to have the ability to vote – I will not disrespect this right!
It saddens me to have to share posts about election day stress and safety, but it is the world we currently live in.
Do You Have a Post-Election Safety Plan? – @clevergirlcraftings (IG)
Coping with Election Day Stress – @womanunbreakable (IG)
Self-care tips during the COVID-19 pandemic
In additional to being a natural planner and extremely organized, I am the person who loves to watch television shows like:
Homestead Rescue
Doomsday Preppers
Tiny House Nation
Living Alaska
Building of the Grid
Swamp People
Survivor Man
I am the person who prepares for natural disasters and has extra food and supplies on hand on a regular day. After living in DC through 9/11 and the DC Snipers I have to admit that I kicked it up a notch. Please take the rage, apathy, and chaos you see before you seriously. It really is better to be safe than sorry no matter who wins the presidential election.
By the way, if you only analyze the political situation based on what you see in front of you or on social media or in the news, you will be misinformed. This was decades in the making. Know that there are evil, divisive forces at play in the background and everything isn't always as simple as it seems. We are witnessing the symptoms, not tackling the root causes. If You See Something, Say Something!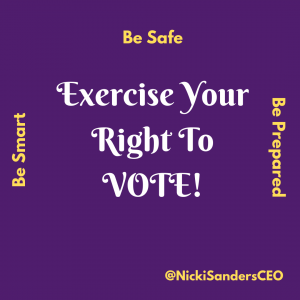 Nicki Sanders, MSW, CEO, is a travel and cupcake lover with an aptitude for authentic connection and career design. She has an extensive background in developing and managing successful programs and leading high-functioning multi-disciplinary teams. She is an accomplished professor, coach, trainer, and group facilitator who has merged her Master of Social Work degree and over 20 years of diverse work experience into a thriving business. Nicki Sanders Leadership Consulting helps businesses recruit and retain the best employees and helps women in mid-level management design the careers of their dreams.
© 2020 Copyright Protected. ALL RIGHTS ARE RESERVED.