Job and careers are important. Obviously, that's one of the reasons that I do what I do!
Employment can influence status, belonging, health, and quality of life. As a result, many of us attach our identities to our job titles or salaries. Cut the toxic attachment! You are more than your job title. Your worth is not determined by your compensation package. Remember to keep the main thing the main thing:
Build your career around your life.
You deserve a job that fills your heart, mind, and wallet.
Define success on your own terms.
Success is not a singular act or a single destination.
You can have your cupcake and eat it too.
NOTE: You are the main thing!
How to live a life of fulfillment and alignment by making an impact:
I – INVESTMENT – Commit to investing in your personal and professional development
M – MASTERY – Become a master at your craft/in your profession
P – POWER – Stand in your power
A – AMPLIFICATION – Amplify your assets instead of your weaknesses
C – CONFIDENCE – Cultivate and operate in your confidence
T – TRANSFORMATION – Honor your transformation and elevation
Here are a few examples of how to live a life of impact and alignment.
Books
She's Still There – Chrystal Evans Hurst
The Magnolia Story – chip and Joanna Gaines
Making The Impossible Possible – Bill Strickland
Movies:
Baby Boom
For Richer or Poorer
Won't You Be My Neighbor
Music:
Man In The Mirror – Michael Jackson
Don't Worry Be Happy – Bobby McFerrin
Ain't No Stoppin' Us Now – McFadden & Whitehead
Today is a gift. That's why they call it the present.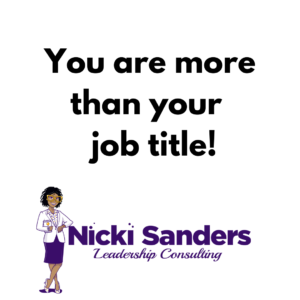 Nicki Sanders, MSW, CEO, is a Career and Empowerment Strategist who helps high-performing women of color in management go from overworked, underpaid, and unappreciated to energized, well paid, and appreciated. Through Nicki Sanders Leadership Consulting, she also helps businesses recruit, hire, train, and retain great employees. Nicki has an extensive background in developing and managing successful programs and leading high-functioning multi-disciplinary teams. She is an accomplished professor, coach, trainer, and group facilitator who has combined her gift for authentic relationships, Master of Social Work degree, and over 20 years of diverse work experience to create a life she loves. Nicki is a lover of cupcakes, travel, and 80's hip hop and R&B music.
© 2021 Copyright Protected. ALL RIGHTS ARE RESERVED.