If you know me, you know that I absolutely love the single serving cake baked in a paper or aluminum cup and topped with icing or other cake decorations! Yes, cupcakes!
I loved cupcakes before they were trendy. Cupcakes are absolutely my favorite dessert.
Fun Fact: National Cupcake Day is December 15th
Fun Fact: Vanilla Cupcake Day is November 10th
Fun Fact: Chocolate Cupcake Day is October 18th
National Cupcake Day was commemorated by taking pictures of the delicious dessert and posting them on social media using the hashtag #NationalCupcakeDay
If you follow me on social media, you know that each month I have a cupcake from a different bakery. You are probably also aware that when I travel, I try to find a new bakery in that location. Small things mean a lot!
I've eaten cupcakes in Washington, DC and 16 of the 19 states where I've traveled. Because of the coronavirus pandemic I have been unable to add new states to my travel list. It's been a lot harder to select and visit bakeries during a global health pandemic (that I feel are following proper health precautions). Nonetheless, you can follow my cupcake journey by following these hashtags on Instagram:
#NickiLovesCupcakes #cupcakeofthemonth #bakeryofthemonth
Nicki's 2020 Cupcake of the Month and Bakery of the Month Journey:
January – Sweet Eden Bakeshop, Severn, MD
Cupcake Hearts, Orlando, FL
Goofy's Candy Co, – Orlando, FL
February – Sugar Bakers Cakes, Catonsville, MD
March – Safeway, Columbia, MD
April – Kake Korner, Laurel, MD
May – Cakes by Cynthia, Halethorpe, MD
June – Decadent, a Coffee ad Dessert Bar, Fulton, MD
July – Lil' Cakes and Creamery, Gaithersburg, MD
Whole Foods, Columbia, MD
August – Cakes Plus, Laurel, MD
September – Balducci's Market, Bethesda, MD
October – BJ's Wholesale Club, Columbia, MD
November – Henry's Sweet Treats, Bethesda, MD
December – Sonia Vee's Cupcakes, Gaithersburg, MD
Do You Have 2021 Bakery of the Month Recommendations?
I'm waiting patiently and safely to be able to travel again and visit new bakeries around the country. Contact me by email or social media if you want to make recommendations for bakeries that I should visit "when the world opens back up".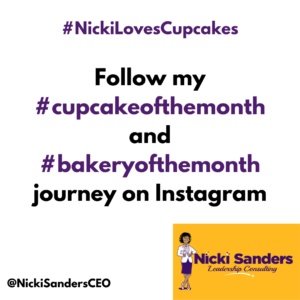 Nicki Sanders, MSW, CEO, is a travel and cupcake lover with an aptitude for authentic connection and career design. She has an extensive background in developing and managing successful programs and leading high-functioning multi-disciplinary teams. She is an accomplished professor, coach, trainer, and group facilitator who has merged her Master of Social Work degree and over 20 years of diverse work experience into a thriving business. Nicki Sanders Leadership Consulting helps businesses recruit and retain the best employees and helps women in mid-level management design the careers of their dreams.
© 2020 Copyright Protected. ALL RIGHTS ARE RESERVED.