When I worked directly with teenagers, I would use the experiences and activities of celebrities to share life lessons. If we are honest with ourselves (and with each other), we as adults still admire celebrities and may even look to celebrities to measure our own success and self-worth. How many of you wanted 'Michelle Obama arms' or wish for a friendship like Oprah and Gayle?
I am filled with pride and gratitude as I scroll through the dozens of posts of celebrities who attended the official dedication and opening weekend of Tyler Perry Studios in Atlanta. Tyler celebrated Diahann Carroll, Oprah Winfrey, Cicely Tyson, and Denzel Washington among others who inspired him. Essence magazine, Representative John Lewis, Whoopi Goldberg, Spike Lee, Phylicia Rashad, and Kirk Franklin were in attendance with dozens of other A-list celebrities and Atlanta elite.
Tyler overcame childhood abuse and adult homelessness to become the first African American owner of a major film studio. The director, screenwriter, producer and playwright is currently the only African American owner of a movie studio. The complex is on the land of the former Fort McPherson. Generations of children and adults will be reminded to dream big, have faith, become an owner, and use their leverage to help others succeed. This is such a great moment in Black History that I wanted to capture it here.
"Last night was REARKABLE. Dream BIG and always acknowledge God. Tyler Perry, we are beyond proud of you". – David and Tamela Mann
"I wish I could post pictures from inside this spectacular studio, but we've been asked to refrain. I got to experience the dedication ceremony with my sister Tera Duvernay and it was beyond. A Black man owns a studio lot larger and more modern than any studio lot in Hollywood. Fun fact: The studio lots of Disney, Warner Bros, Paramount, Fox, and Sony could fit inside Tyler Perry's studio lot at the same time and there would still be 60 acres to spare. Jaw dropping. And all on a former Confederate Army base. Our ancestors rejoice. Twelve soundstages. A 200,000 square foot office complex. A whole neighborhood of historic homes and facades for fil shooting. Perfectly manicured hedges all around. And beautiful Black people working at all levels. A stunning achievement that will echo through the generations. Words can't express the pride. And the joy. Bravo, Tyler Perry. Stunning to witness. History made." -Ava Duvernay
"What an epic night last night with Tyler Perry. Your new Tyler Perry Studios is just beautiful. Thank you for your generosity and your encouraging words towards us. You never ceased to dream, but most importantly you are always giving God the glory. Thank you for being an example and for daring us all to dream bigger." –Tamera Mowry-Housley
"Although I deeply missed being at The Potters House Dallas, it was an extreme honor to be the homilist for the new Tyler Perry Studios. What was once a confederate military base, was flooded with the sons and daughters of slaves and slave owners to dedicate the studio which is reportedly the size of three studios in Beverly Hills combined! To witness it was beyond any description I could articulate." -Bishop TD Jakes
I hope you inspired to dream a little bigger as you listen to Tyler Perry's Ultimate Icon Award acceptance speech at the 2019 BET Awards.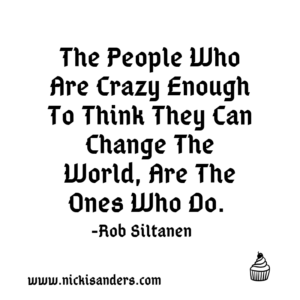 Nicki Sanders, MSW, is a Leadership and Career Strategist who helps mid and senior level women leaders develop the confidence, competence, and credibility to lead with authenticity and boldness. She has an extensive background in leading multi-disciplinary teams, developing and managing programs, and forming public-private partnerships. She is a college professor with a passion for teaching and mentoring the next generation of leaders. Nicki is an accomplished supervisor, trainer, and group facilitator who has merged her Master of Social Work degree and over 20 years of diverse work experience into a thriving business. Nicki Sanders Leadership Consulting assists companies in expanding their influence and impact by enhancing employee recruitment, increasing employee morale and performance, and decreasing employee turnover. Nicki is a travel and cupcake lover who also enjoys reading, listening to music, and serving her community.