I love my work!
I always have. I always will.
Even when I fell out of love with my job, I still loved my work. My work and my job are not the same.
December is my time to slow down and plan. One of the questions I wanted answers to was what adaptations need to be made to my business model. I am in the process of updating my business goals. When I retreated in stillness and dedicated time to self-reflection, the quiet brought me back to who I am and what I love. What has been consistent throughout my over two-decade career and what I do naturally is teach, connect, and empower. It's what I do, and I do it with excellence.
Whatever I learn I want to share. I am a teacher in every sense of the word. Where, what, and how I teach is totally up to me – whether workshop facilitator, professor, or health educator. I am currently passionate about teaching professionals how to design and build a successful career.
I have always been the resource and liaison for connecting people with each other and the supports and services they need. Whether organizing family events or workplace ceremony. My Master of Social Work degree has helped me become a professional connector. I love connecting you with awesome women leaders in my Conversations with Nicki Sanders interview feature and connecting agencies that serve teens in foster care with amazing humanitarians for my annual Pack A Backpack™ Drive and Pack A Purse™ Drive.
I am an advocate, a great listener, and an awesome encourager. My presence and the events I curate are safe spaces for authenticity and vulnerability. It is important for me to provide a platform for people to feel seen and heard and to feel empowered to walk in their brilliance. I am helping professionals feel in control their careers and trust themselves to make informed decisions about their career goals.
I am Nicki Sanders, Career and Empowerment Strategist helping high-performing women of color in management go from overworked, underpaid, and unappreciated to energized, well-paid and appreciated.
Are you planning to apply for a promotion or search for a new job?
If you are ready to transform your career to do work that fills your heart, mind, and wallet, connect with me for customized career strategy and support. Remember, one of my career goals is to help you reach your career goals.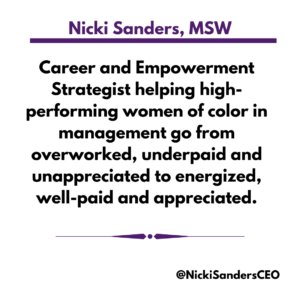 Nicki Sanders, MSW, CEO, is a travel and cupcake lover with an aptitude for authentic connection and career design. She has an extensive background in developing and managing successful programs and leading high-functioning multi-disciplinary teams. She is an accomplished professor, coach, trainer, and group facilitator who has merged her Master of Social Work degree and over 20 years of diverse work experience into a thriving business. Nicki Sanders Leadership Consulting helps businesses recruit and retain the best employees and helps women in mid-level management design the careers of their dreams.
© 2020 Copyright Protected. ALL RIGHTS ARE RESERVED.