I decided to do 50 NEW things as I happily journey to the half-century mark next year.
I didn't really choose a theme. I'm just exploring life with gratitude and wonder. Some things will be single events. Some things will have multiple components. Some things will be ongoing opportunities. Some things will be big while others seem small. The common denominator is that they all will be NEW.
I plan to age well, age happily, age healthily, and adventurously, age peacefully.
Oh, and let me remind you that you are invited to my 100th birthday party. I'm planning on having an amazing time. Yes, dancing to Candy Girl by New Edition is part of my plan.
Here is that start of my Journey to 50 List:
After putting my self-care on the back burner for far too long, I decided to prioritize my health (because I plan to live to at least 100 years old) and that required adopting a dairy-free and gluten-free diet. Yes, it was hard to cut out bread, milk, cheese, pancakes, and cupcakes, but I love myself more than any of those foods.
I went to Miami for the first time and also to the beach by myself for the first time in September.
In September I hosted my first virtual workshop for working women.
In October I joined an amazing team of nature lovers and botanical/garden/agriculture experts. I've planted my first (hibiscus) plant in the ground, fed a chicken, weeded a garden, harvested milkweed, and the list will continue to grow.
I  plan to visit new places, try new activities, and meet new people. Stay tuned…4 down and 46 more to go!
I have 5 months to complete the list!
Recommendations for new experiences are welcomed.
AND... just in case you want to bless your girl for her 50th, I'm accepting t-shirts that celebrate and commemorate my 50th birthday. Size XL to be on the safe side.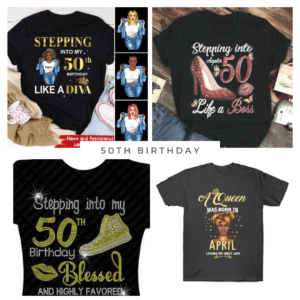 Nicki Sanders, MSW, ushers high-performing women of color in mid-level social work and human services leadership through promotion to senior leadership. As Founder and CEO of Nicki Sanders Leadership Consulting, her mission is simple – to eliminate toxic workplaces by developing skilled, empathetic, and goal-oriented leaders who have the vision, support, and resources to create a culture where business prospers, and employees thrive individually and collectively. Nicki has an extensive background in nonprofit management leading high-functioning, multi-disciplinary teams. She is an accomplished professor, coach, trainer, and group facilitator who has combined her gift for authentic relationships, Master of Social Work degree, and over 20 years of diverse work experience to create a life and career aligned with her values and purpose. Nicki is a lover of cupcakes, travel, and 80's hip hop and R&B music.
© 2022 Copyright Protected. ALL RIGHTS ARE RESERVED.