My "spring cleaning" resulted in me rediscovering workbooks I created for my clients and Mother's group participants in the early 2000's. This week I came across a workbook that I created for my Mother's group where I hosted a two-part Women's History Month celebration. I'm not new to women's empowerment! My participants spanned age ranges, backgrounds, and employment status. The Women's History Month workbook contains poetry, motivational quotes, affirmations, self-assessments, word search, goal setting sheets, and facts about women in history.
Did you know that globes were invented by Ellen Fritz in 1875 and that Liquid Paper correction fluid was invented by Bette Nesmith Graham in 1956?
The workbook also contains online and print resources. After looking at the resources pages, I realize that I shared with my group members my current and future reading list. I was working full-time and attending graduate school and raising a daughter and didn't get through that reading list. I may have to add some of those books back to my current reading list.
Have you read any of these books?
Finding Your Own North Star – Martha Beck
Soul Catcher: A Journal to Help You Become Who You Really Are – Kathy Eldon and Amy Eldon
Motivation and Goal Setting: How to Set and Achieve Goals and Inspire Others – Jim Cairo
Wishcraft: How to Get What You Want – Barbara Sher
Dream Big: A Roadmap for Facing Life's Challenges and Creating the Life You Deserve – Deborah Rosado Shaw
Necessary Dreams: Ambition in Women's Changing Lives – Arina Fels
Rich Minds, Rich Rewards: 52 Ways to Enhance, Enrich, and Empower Your Life – Valerie Burton
9 Secrets of Women Who Get What They Want – Kate White
Do What You Love, The Money Will Follow: Discovering Your Right Livelihood – Marsha Sinetar
Stand Up for Your Life: Develop the courage, confidence, and character to fulfill your greatest potential – Cheryl Richardson
7 Greatest Truths About Successful Women – Marion Lung Brem
Herstory: Women who Changed the World – Ruth Asby and Deborah Gore Ohrn
Vital Public Information: 101 Ways to Improve Your Life – Caitlin Davies
Swell: A Girls' Guide to the Good Life – Cynthia Rowley
Where do you need to remind yourself of your purpose, accomplishments, experience?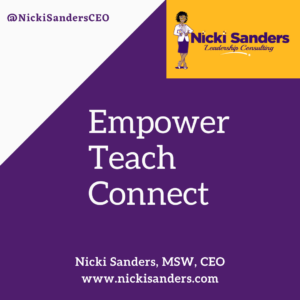 Nicki Sanders, MSW, CEO, is a Career and Empowerment Strategist who helps high-performing women of color in management go from overworked, underpaid, and unappreciated to energized, well paid, and appreciated. Through Nicki Sanders Leadership Consulting, she also helps businesses recruit, hire, train, and retain great employees. Nicki has an extensive background in developing and managing successful programs and leading high-functioning multi-disciplinary teams. She is an accomplished professor, coach, trainer, and group facilitator who has combined her gift for authentic relationships, Master of Social Work degree, and over 20 years of diverse work experience to create a life she loves. Nicki is a lover of cupcakes, travel, and 80's hip hop and R&B music.
© 2021 Copyright Protected. ALL RIGHTS ARE RESERVED.