Prepare for Greatness! Make your social work career advancement a priority in 2023.
REGISTRATION IS OPEN! Register early using Eventbrite for new year SAVINGS.
Are You Really Saying YES To Your Social Work Career Success? $45.00
Social Work Your Social Work Career Virtual Workshop $55.00
Value of each workshop: $99 individually
Regular rate for combined workshops: $100 total
Early bird rate for combined workshops: $88 total Ends 1/12/23
SPECIAL OPENING DAY COMBINED RATE: $70 total on 1/2/23 ONLY 10am-11pm
Are You Really Saying YES To Your Social Work Career Success? Virtual Workshop; Tuesday, January 17, 2023; 6:30pm-8:00pm
$45.00 Regular rate; $39.00 Early bird rate through 1/12/2023
$40 Day one rate TODAY ONLY
Is what we believe we want or say we want as social workers aligned with our personal and professional beliefs or actions?
Leadership is an inside job. Social workers are sometimes socialized in ways that can hinder our success. Often, we benefit greatly when we pause to evaluate our routines or dedicate time to self-reflection. This dedicated time allows us to celebrate our success and recognize beliefs that lead to patterns that can make success probable or harder to obtain.
As a woman in social work leadership, I know you are handling your business. I know you are getting things done. Strong Friend, it's time to check in on yourself.
As whole human beings, during this session, we will connect with our personal and professional beliefs, needs, and goals…together. We will celebrate how far we've come and the women we had to become to get us here.
Are you feeling stagnant in your career? Are you exhausted by your current role? Is it time for you to hit the reset button? It's definitely time to thrive!
Participants in this workshop will:
Uncover their expectations for their current role.
Determine how they want to show up as a social work leader.
Discuss strategies to boost their professional confidence.
Decide how to let their values lead their career focus.
 Social Work Your Social Work Career Virtual Workshop; Thursday, January 19, 2023; 6:30pm-8:00pm
$55.00 Regular Rate; $49.00 Early Bird Rate through 1/12/2023
$30 Day one rate TODAY ONLY
The opportunities to excel and make an impact in the social work profession are vast, however, both new and seasoned social workers often feel confusion and limitation about how to build a long-term successful social work career. Strategic Career Management is the lifelong process of investing resources into your career to maintain or increase your value in the workplace, undertake work that is personally satisfying, strive for work/life balance, and achieve financial security.
The three pillars in my Strategic Career Management framework – clarity, credibility, and congruency – will be explored to determine how to can incorporate social work skills and training into the career advancement process. Social work skills are high-income skills, yet this workshop will also explore potential barriers to career advancement that can be inhibited by traditional social work education, training, and belief systems.
Participants in this interactive presentation will:
Define social work career success on their own terms
Examine myths and misconceptions about the social work profession
Inventory their transferable social work skills and experiences
Explore various social work career fields and job titles
Develop a career acceleration plan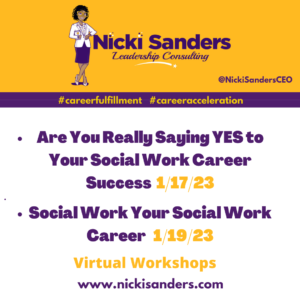 Nicki Sanders, MSW, supports high-performing women of color in social work leadership in developing careers that feed their hearts, minds, and wallets. As Founder and CEO of Nicki Sanders Leadership Consulting, her mission is simple – to eliminate toxic workplaces by developing skilled, empathetic, and goal-oriented leaders who have the vision, support, and resources to create a culture where business prospers, and employees thrive individually and collectively. Nicki has an extensive background in nonprofit management leading high-functioning, multi-disciplinary teams, volunteer recruitment and retention, and social impact programming. She is an accomplished professor, coach, trainer, and group facilitator who has combined her gift for authentic relationships, Master of Social Work degree, and over 20 years of diverse work experience to create a life and career aligned with her values and purpose. Nicki is a lover of cupcakes, travel, and 80's hip hop and R&B music.
© 2023 Copyright Protected. ALL RIGHTS ARE RESERVED.