SPOTLIGHT Teen of the Month – March 2013
Nick N. graduated with his IEP diploma in 2010 and then attended school an additional year to receive his regular diploma in 2011. He is an avid fan of NASCAR, the New York Giants and the New York Yankees.  Nicki enjoys being outdoors.  He works with a local landscaping company where his duties include lawn maintenance, weed-whacking, creating stone ways, and plowing.  Nicki entered foster care in 2008 and has had the privilege of remaining in the same foster home since that time.  He has been described as a kind, "old soul" who has a heart of gold. He is very personable and has matured into a hard worker who loves his family and friends and cherishes his relationships. Nick has created a strong bond with his foster family, caseworker and KidsPeace family.
Nick became a Volunteer Fire Fighter during his senior of high school in 2011.  He was exposed to this industry with his father and other family members and set a goal to join.  Nick is also OSHA, CPR and First Aid trained and has a badge with a fire number.  
Nick has grown up in a family of mechanics.  His father was a tow truck driver and mechanic and he has uncles who are auto mechanics. His family memories include working on the cars of family and friends and going out with his dad. Additionally, Nick is certified as an Auto-Motive Technician. He attended the Boces VO-TECH Quest Start program and became certified after 2 years attending this vocational program. He assists in fixing and looking at cars and trucks and also likes to assist in checking the fire trucks when there is a problem. 
Nick's goals are to maintain a good job and continue to be active in the fire department and in the firefighting field.  Nick is motivated to work hard and complete vocational certifications to advance in the fire department and one day work his way up the ranks. He is looking into furthering his education in the health field and possibly becoming certified as an Emergency Worker. He enjoys helping others because he was taught that from his father who has been deceased since 2007.  His support system includes his foster parents, his grandmother, uncle, brothers, KidsPeace staff especially his former caseworker Kristi Storey, and fire department staff. Nick is carrying on his father's legacy and positive character traits.  He gains strength and courage knowing that his father would be proud of the man he has become.
Nick has made the decision to remain in foster care until age 21 so that he can continue to enhance his independent living skills and develop a strong transition plan.  Nicki's advice to other teens in foster care is, "Don't make it harder than it has to be. Just talk to your foster parents and caseworker, don't be afraid to, they are there to help you."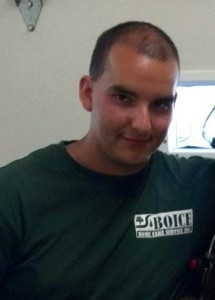 You may also want to read: SPOTLIGHT on Manuella 

Help eliminate negative stereotypes of teens in foster care by nominating a teen for our SPOTLIGHT Teen of the Month recognition.  The Teen Toolbox SPOTLIGHT Teen of the Month award recognizes a youth (14-21) in the foster care system that is leading a life of promise and making a positive impact in his or her community.  Nominations accepted on a continuous basis. #STOTM
Nicki Sanders, MSW, Chief Visionary Officer
The Teen Toolbox utilizes youth portfolio development and civic engagement and academic empowerment strategies to help teens set goals for life after high school and create a road map to reach those goals through its PACKAGED FOR SUCCESS™ Programs. We are committed to supporting and raising awareness about the needs and potential of teenagers in the foster care system.
© Copyright Protected. ALL RIGHTS ARE RESERVED.