Our Annual Pack A Backpack™ Drive begins April 1, 2016 and ends on May 7, 2016. We are collecting backpacks (and duffel bags) filled with personal hygiene items for teen boys in foster homes, group homes, and homeless shelters. Backpacks will be delivered in the month of May during National Foster Care Month.
New and gently used backpacks will be accepted. Only new personal hygiene items accepted.
New personal hygiene items needed include: toothbrush, toothpaste, mouthwash, hand sanitizer, deodorant, soap, lotion, powder, shampoo, conditioner, and shaving items.
 Annual Pack A Backpack™ Drive 2016: April 1, 2016 – May 7, 2015
We hope you will collaborate with us during our Pack A Backpack™ Drive.
• We are seeking several drop-off locations in the community for our Pack A Backpack Drive™. Churches, barber shops, coffee shops, schools, community centers, and other local businesses.
• We are also in need of a central location for storing, sorting and packing donations. Volunteers needed!
• We are seeking a location where agency representatives can pick up donations and be given specific "shopping" times so that youth can come and select their own items.
• We never want to make deliveries in black garbage bags so donations of durable large bags are needed.
If you want to host a collection site, here are 5 easy steps to Pack A Backpack™ Drive collection success:
1. Select appropriate containers for donations and an accessible collection location.
2. Choose collection/drop-off dates and times.
3. Publicize Pack A Backpack™ — social media, canvas your neighborhood, post flyers at home, school, or work. Be sure to acknowledge your collaboration with Packaged for Success.
4. Sort through all donations at the conclusion of the drive — keep new and gently used backpacks; discard items that are not in good condition
5. Coordinate pick up and/or delivery with Chief Visionary Officer, Nicki Sanders.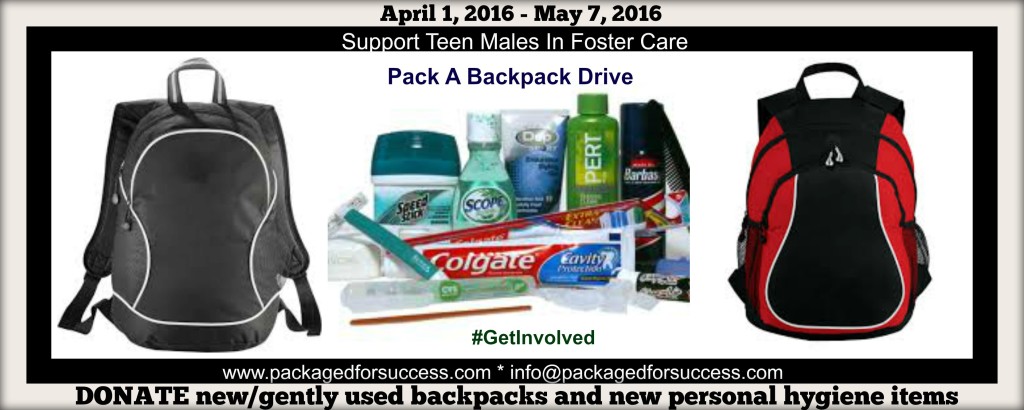 Nicki Sanders, The Packaged For Success Coach, is an Adjunct Professor with an extensive background in developing and managing internship programs. She is a skilled program manager, coach, trainer, and group facilitator who has packaged her Masters of Social Work degree and 20 years of work experience into Packaged For Success, a full service training and professional development company.
© 2016 Copyright Protected. ALL RIGHTS ARE RESERVED.