Tips for Internship Assignments
Assign tasks that relate to your intern's education and career goals.
Assign a starter project to get your intern acclimated to your company and build confidence.
Assign a long-term project to encourage autonomy, collaboration, and tie the internship experience together.
Assign a variety of tasks and projects to maximize learning and avoid boredom.
All internship assignments should have deadlines.
Break assignments into small tasks and assign into industry categories.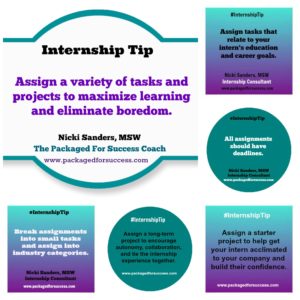 Nicki Sanders, The Packaged For Success Coach, is an Adjunct Professor with a passion for business and career development. She has an extensive background in developing and managing interns and successful internship programs. She is a skilled manager, coach, trainer, and group facilitator who has packaged her Master of Social Work degree and 20 years of work experience into Packaged For Success, a full service training and professional development company.
© 2017 Copyright Protected. ALL RIGHTS ARE RESERVED.