Like many working adults, I attended classes in the evening while pursuing my Master's degree in Social Work. There were very few men in my courses.  I don't remember the gentleman's name or the class we were taking together but there was a discussion about our career goals.  While many female come classmates expected to receive a promotion at their current place of employment our male counterpart said he wanted to become the Secretary of the Department of Health and Human Services.  It was at that moment that I realized I was thinking too small.
During National Social Work Month I am dedicating this blog to all Social Work students and new Social Work professionals.  I am sending encouragement your way.  I want you to know that the opportunities to make a difference in the field of social work are plenty.  In this profession you can be what you want to be whether you aspire to become a clinician, an administrator, a child welfare worker, an author, a professor, a community organizer, or a curriculum developer.    

Here are my top ten tips for new Social Workers:
You matter.

Always operate in integrity. Don't compromise your values.

 

Self-care is essential.  You cannot care for someone else if you aren't caring for yourself.

 

Things are rarely just black and white when you deal with people's lives.  Look out for gray areas.

 

Don't work harder than your clients and do not make them dependent on you. 

 

Keep your skills current.  Continuing education is a must. 

 

Develop a trusted professional support system.

 

If your heart isn't in it, your body shouldn't be in it either.  Make an exit before you burn out.

 

Flexibility and creativity should be workplace norms.

 There are some lessons that only experience can teach. 
Happy Social Work Month!!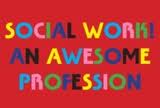 Nicki Sanders, MSW, Chief Visionary Officer
The Teen Toolbox utilizes youth portfolio development and civic engagement and academic empowerment strategies to help teens set goals for life after high school and create a road map to reach those goals through its PACKAGED FOR SUCCESS™ Programs.  We are committed to supporting and raising awareness about the needs and potential of teenagers in the foster care system.
© Copyright Protected. ALL RIGHTS ARE RESERVED.