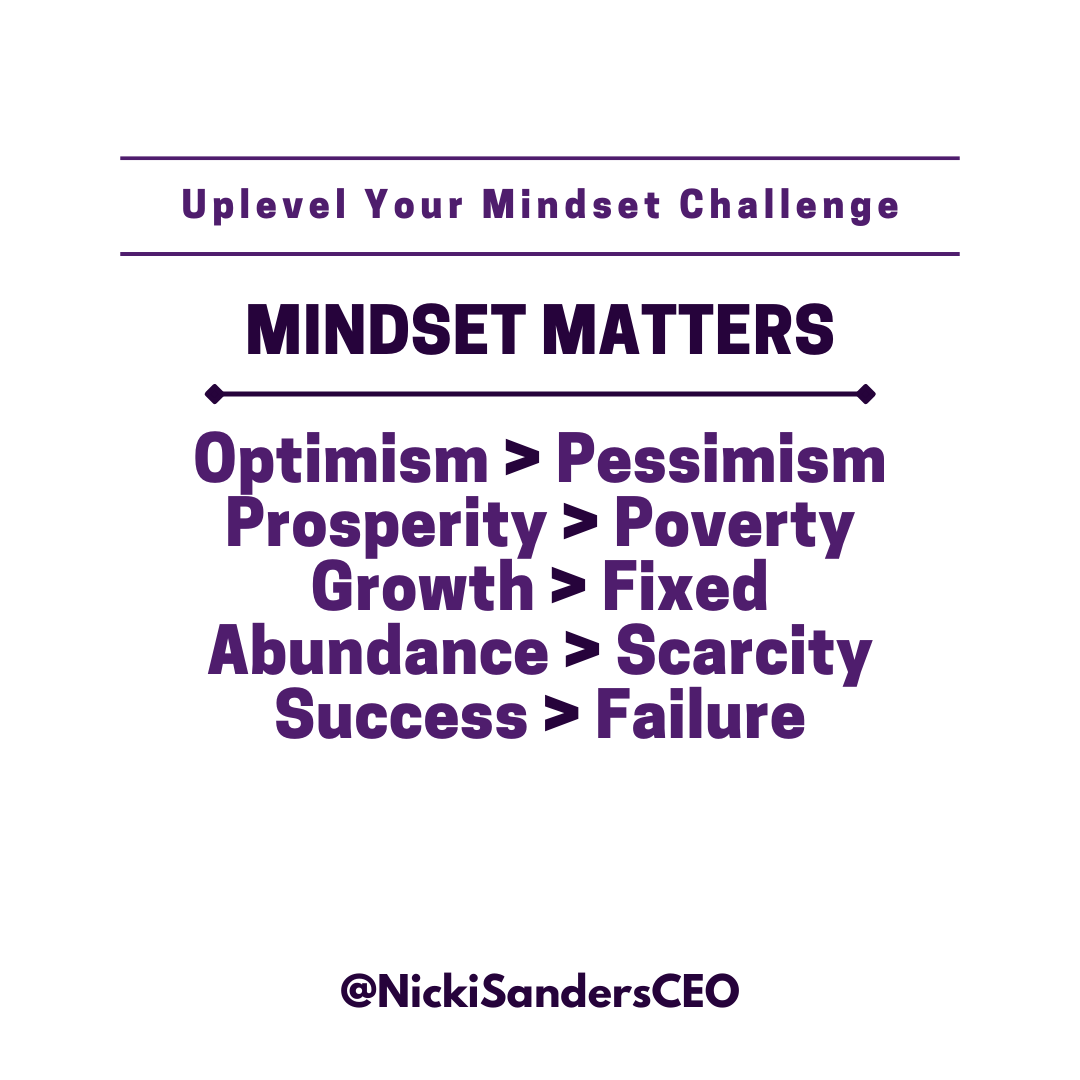 STRETCH is the career development framework that is the foundation of my Uplevel Your Position Program. The components of my STRETCH framework are Service, Tracking, Results, Enthusiasm, Tenacity, Communication, and Hope. Hope is the feeling that what is wanted can be had or that events will turn out for the best.  This Uplevel Your Mindset Career Development Challenge is a highlight of hope.
If you want to increase your confidence, decrease negative thoughts, and carve out a career path that is perfectly aligned with your values, goals, and skills, you are in the right place. You've joined the winner's circle in my Uplevel Your Mindset Career Development Challenge.
Mindset Matters – Your mindset is a set of beliefs that shape how you make sense of the world and yourself. It influences how you think, feel, and behave in any given situation. Mindset is the means through which you process and reprocess the events of your life.
Mindset plays an important role in what you believe about yourself
Mindset plays a pivotal role in what you want and whether you believe you can have it
Mindset plays a crucial role in how you handle life's challenges
Mindset ultimately impacts whether you succeed or fail
Answer These Questions
Are you more likely to persevere or quit?
Do you view mistakes as an opportunity to learn or an embarrassment?
Do you trust yourself and believe in your capabilities?
Do you lack effort because you believe you can't change or improve?
Mindset can be changed. Just because you have "always" believed something doesn't mean you have to continue to believe it. You have potential. Think about where your unhelpful beliefs come from so that you can chart a new path forward.
One hindrance to goal achievement is a lack of focus. It can be difficult to maintain focus and discipline when you are managing multiple responsibilities or fighting multiple battles. When you lose focus, procrastination, rushing, and chaos often follow. Your task for Day 1 of this challenge is to focus your mindset on where you want to see improvement.
Focus Your Mindset – Select an area to work on during this week's challenge
Optimism > Pessimism
Prosperity > Poverty
Growth > Fixed
Abundance > Scarcity
Success > Failure
Concentrate most on your mindset elevation journey. The process is more critical than the result. Don't get so fixated on the destination that you miss out on all the things you could be learning as you travel on your journey.
If you are tired of being overworked, underpaid, and unappreciated, you have just started the process of being energized, well-paid, and appreciated by eliminating limiting beliefs and negative thoughts through your participation in my Uplevel Your Mindset Challenge.
Uplevel Your Mindset 5-Day Career Development Challenge
Quarter 3 Career Development Challenge
Date: August 9, 2021 – August 13, 2021
Stay tuned for five (5) days of daily video career tips will be shared on Nicki Sanders Leadership Consulting's Facebook page – @NickiSandersCEO
Nicki Sanders, MSW, CEO, is a Career and Empowerment Strategist who helps high-performing women of color in management go from overworked, underpaid, and unappreciated to energized, well paid, and appreciated. Through Nicki Sanders Leadership Consulting, she also helps businesses recruit, hire, train, and retain great employees. Nicki has an extensive background in developing and managing successful programs and leading high-functioning multi-disciplinary teams. She is an accomplished professor, coach, trainer, and group facilitator who has combined her gift for authentic relationships, Master of Social Work degree, and over 20 years of diverse work experience to create a life she loves. Nicki is a lover of cupcakes, travel, and 80's hip hop and R&B music.
© 2021 Copyright Protected. ALL RIGHTS ARE RESERVED.