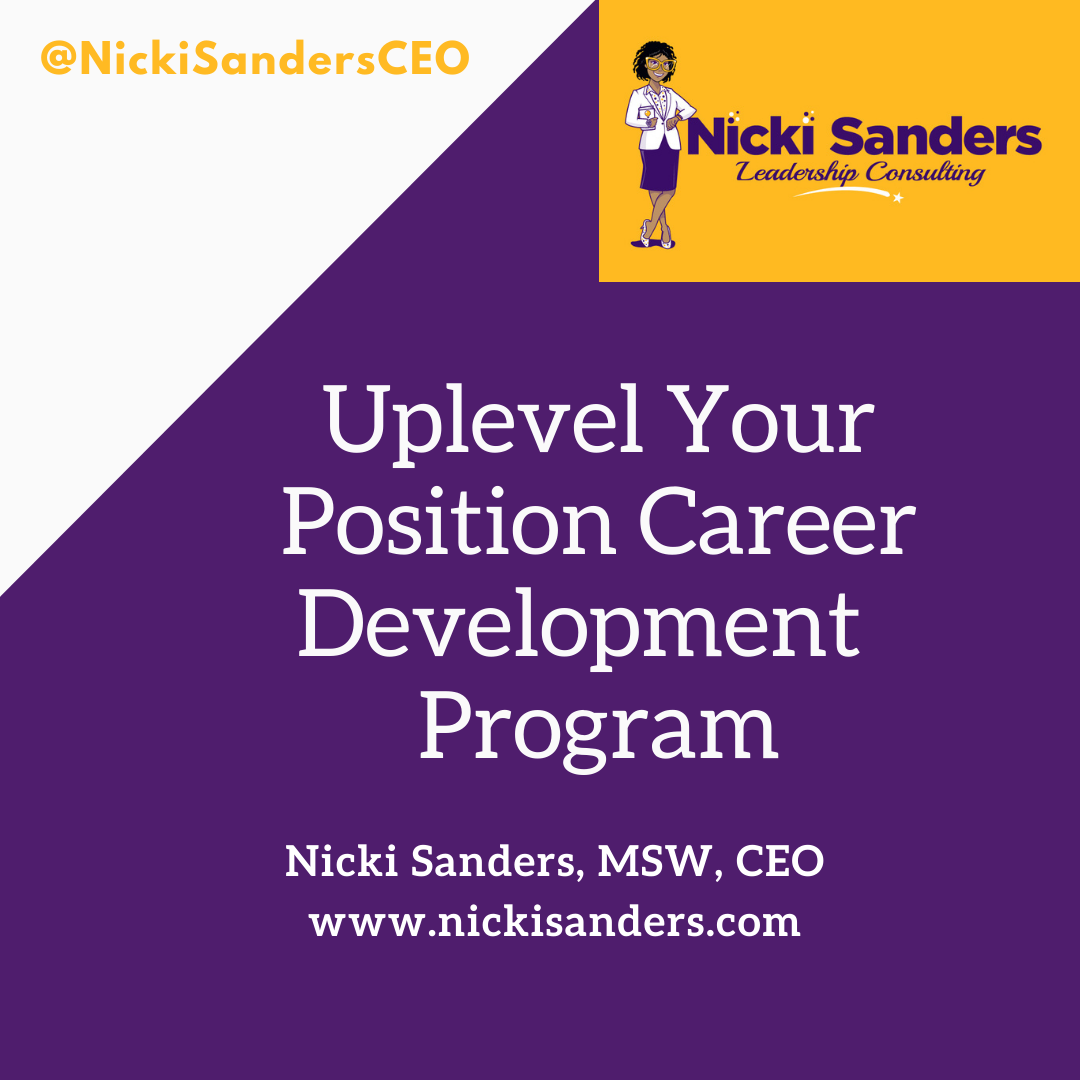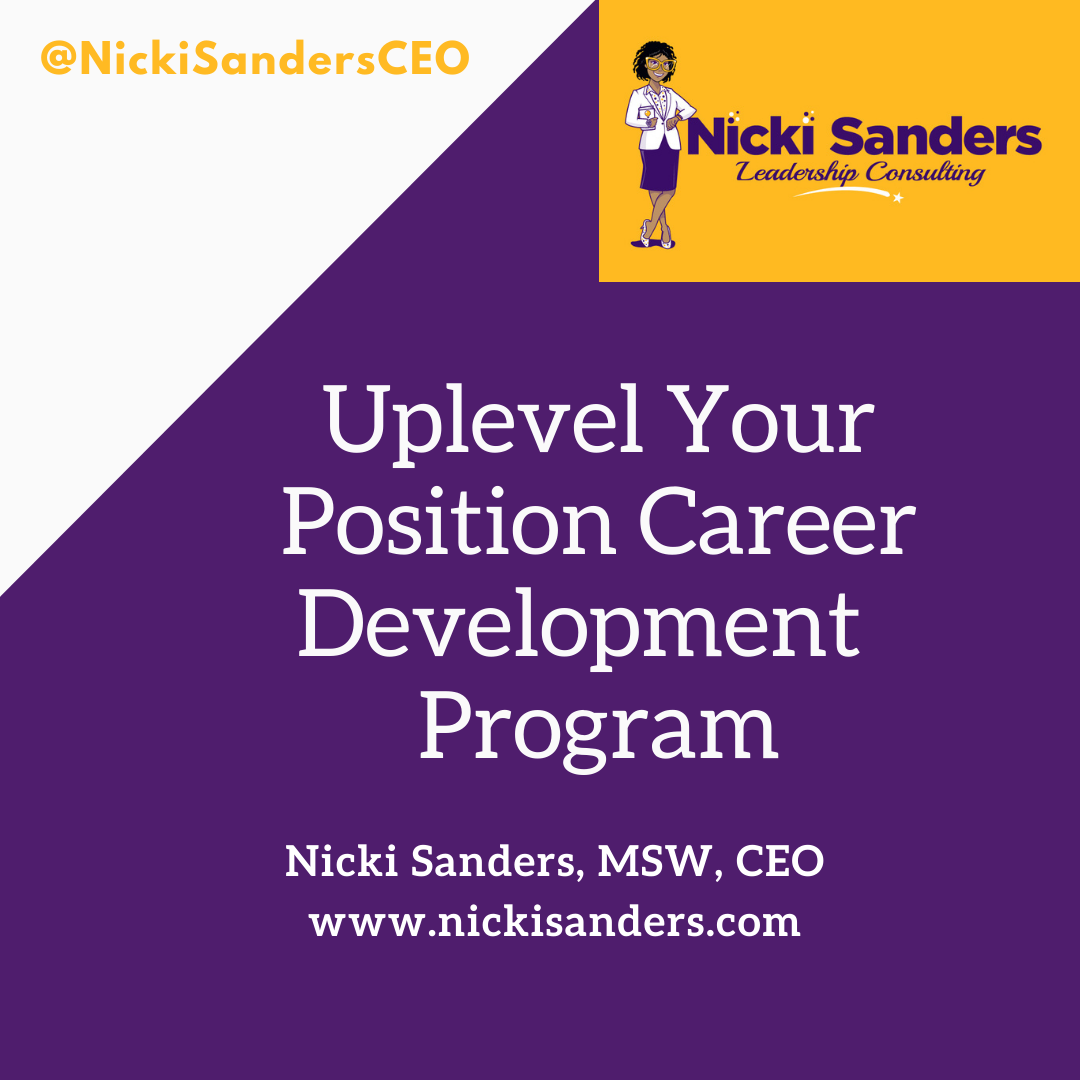 Are you ready to go to the next level in your career?
What if you could develop power over your inner critic?
Do you need to leave a toxic work environment?
What if you had proven career development strategies at your fingertips?
The Uplevel Your Position Program Career Development Program can help you chart a clear path to the career of your dreams. The Uplevel Your Position Program can help avoid pitfalls as you begin your job search, create materials that stand out from the competition, and establish your unique professional identity.
In the Uplevel Your Position Career Development Program you will add a new cheerleader to your squad, discover your unique assets, uncover limiting beliefs, and develop meaningful and expansive career goals.
Does this sound like you?
Struggling to leverage your certification or degree?
Unsure what you want to do next in your career?
Know what you want but unsure if you can achieve your career goals?
Want to be more visible in the workplace?
Unsure how to improve your online presence?
Hasn't remained in contact with your professional network?
What if there is a way to eliminate these obstacles?
I understand the frustration and confusion that career planning can produce so I created the Uplevel Your Position Program. The Uplevel Your Position Program was created to help you stand out in a crowded job market, fearlessly express your abilities on paper and in job interviews and give your career confidence a boost.
If you want to jumpstart your career development plan, REGISTER the Uplevel Your Position Program by September 6, 2021, to join the quarter 3 cohort launching on September 13, 2021.
My Strategic Career Management process encompasses three pillars – clarity, credibility, and congruency. Strategic Career Management is the lifelong process of investing resources into your career to maintain or increase your value in the workplace, undertake work that is personally satisfying, strive for work/life balance, and achieve financial security.
You want to level up, but you have to STRETCH in your position before you can Uplevel Your Position. STRETCH is the career development framework that is the foundation of my Uplevel Your Position Program. The components of my STRETCH framework are Service, Tracking, Results, Enthusiasm, Tenacity, Communication, and Hope.
Uplevel Your Position Career Development Strategies:
 Clarity - clearness or lucidity as to perception or understanding; freedom from indistinctness or ambiguity
Fess Up – Admit what you want
Look Up – Focus on your assets
Saddle Up – Prepare for the job you want
Credibility - the quality of being trusted and believed in
Show Up – Accept your spotlight
Speak Up – Advocate for yourself
Stand Up – Commit to advancing your career
Congruency – a state of consistency; the quality or state of agreeing, coinciding, or being congruent
Level Up – Invest in yourself
Uplevel Your Position Program IS for you if you are:
Motivated and ready to level up in your career
Goal-oriented and ambitious
Know you are meant for more
Dedicating to making a positive difference in this world
Amazing at what you do/the "go to" woman at your job
Have a degree in the human services field (social work, sociology, counseling, public health, education, criminal justice, etc.)
Uplevel Your Position Program is NOT for you if you:
Aren't sure you are ready to transition/change your current situation
Need to be convinced of your value or brilliance
Don't want to implement new strategies
My most successful clients are talented, educated, high-performing women in human services leadership who require a good pep talk every now and again when doubt creeps in. They may need a reminder that they've excelled/succeeded before and that they can do it again, but we aren't starting from scratch.
Elevation Is Possible:
Imagine if you had your major achievements at your fingertips
Consider what it's like to share your accomplishments without self-doubt
You can define success on your own terms
Be prepared to put your best foot forward
Join a community of like-minded women in human services leadership
You don't have to imagine or wonder. Let's make your career dreams a reality with the Uplevel Your Position Program.
I'm Nicki Sanders. A Career and Empowerment Strategist, Human Services Hiring Manager, Social Worker, and Professor who built the career and business of my dreams. I've experienced self-doubt as I pondered how to advance my career. I've let time slip away because I was too busy to focus on my career. I know what it's like to sit in overwhelm and frustration as you prepare to update your resume and cover letter. I've experienced compassion fatigue and professional burnout but still questioned whether I should leave the job I loved (but also hated at the same time). I don't want the same for you.
I created the Uplevel Your Position Program to help you go from overworked, underpaid, and unappreciated to energized, well-paid, and appreciated.
Only ten (10) women are allowed in each quarterly cohort to allow for individual support, intentional implementation, and genuine connection.
If you want to elevate your career confidence and competence, join the Uplevel Your Position Program.
Frequently Asked Questions
Q: How does this process work?
A: Complete your registration and receive your enrollment application and invoice. Only 10 women are allowed in each cohort
Q: What if I don't know what I want to do?
A: Career clarity is a key focus area in the program.
Q: How long is the program?
A: There are 7 sessions delivered electronically over 10 days. You will have time during the session to catch up on missed work.
Q: Is this information I can find online for free?
A: The Uplevel Your Position Program was developed based on my research and the professional successes and challenges of myself, my colleagues, and my clients. The program is organized in a way that will save you time, eliminate guesswork and provide targeted career information upon which to build a solid career foundation.
The Uplevel Your Position Program is perfect for women of color in human services leadership.
Fields of Study – Social Work, Sociology, Counseling, Public Health, Education, Criminal Justice, Public Administration
Companies – For-Profit and Nonprofit
Sample Job Titles – Deputy Director, Founder, Executive Director, Branch Chief, Senior Director, Development Associate, Chief Program Officer, Program Manager, Volunteer Coordinator
Develop a powerful collection of your work and the language to showcase your uniqueness and increase your confidence.
IMPORTANT: There are no refunds provided after Day 2. Contact me if you are unsatisfied with this program and your investment may be applied to other career products.
Imagine where you could be in your career if you had a group of awesome professional women cheering you on. Imagine the time you could save and the frustration you could avoid with mentorship and guidance. Imagine how great it would feel to be able to document your career accomplishments. Imagine having meaningful stories to share on your job interview or in your performance evaluation. You don't have to imagine - it's available to you. The Uplevel Your Position Program is the solution you seek.
This is a limited-time offer. You can be ready for your next job or promotion interview in less than two weeks by enrolling in the Uplevel Your Position Program 2021 Quarter 3 Cohort by September 6, 2021. We launch on September 13, 2021.
Enrollment in the September 2021 Uplevel Your Position Career Development Program is just $484.80 in honor of my 48th birthday on 4/8 when I announced the first cohort! The regular program investment is $497.00.