I love all things social work but have to admit that I am slow to get on the social work podcast train. Let me be honest, I am slow to get on the podcast train in general. I have great intentions but rarely set aside time for regular listening.
Social Work is an extremely diverse field. There are social workers employed in countless industries across the globe.
Here are the 6 social work podcasts I plan to explore in 2019:
The Social Work Podcast – The Social Work Podcast provides information on all things social work, including direct practice (both clinical and community organizing), research, policy, education… and everything in between. Join your host, Jonathan Singer, Ph.D., LCSW, as he explores topics near and dear to every social worker's heart. The purpose of the podcast is to present useful information in a user-friendly format. Although the intended audience is social workers, the information will be useful to anyone in a helping profession (including psychology, nursing, psychiatry, counseling, and education). The general public might also find these podcasts useful as a way of learning what social workers understand to be important.
NASW Social Work Talks Podcast – NASW Social Work Talks podcast (Inform, Educate & Inspire) is an opportunity to explore topics that social workers care about and to hear from social work experts and pioneers. The National Association of Social Workers (NASW) is the largest membership organization of professional social workers in the world. NASW works to enhance the professional growth and development of its members, to create and maintain professional standards for social workers, and to advance sound social policies.
inSocialWork Podcast – The mission of inSocialWork® is "to engage practitioners and researchers in lifelong learning and to promote research to practice and practice to research". This podcast is of particular interest to me as a clinical supervisor as it strives to bridge the gap between academia and clinical practice. Important topics such as compassion fatigue, burnout and self-care, and trauma informed teaching and supervision are covered.
Podsocs Podcast – Produced by the School of Human Services and Social Work at Griffith University in Australia, Podsocs is "the podcast for social workers on the run" bringing listeners "up-to-the-minute research, diverse and sometimes controversial perspectives on social phenomena and focuses on knowledge and skills needed in the human services." Designed specifically for social workers seeking to broaden their perspectives or deepen their knowledge on discipline-related topics, Podsocs spans social work topics from micro to macro, including many human rights topics and international issues. Podsocs often includes expert interviews with cutting-edge information from leaders in the field.
Social Work & Politics Podcast – Interviews with social work academics and professionals on the issues and policies of the day, and their relationship to social work practice.
Hip Hop Social Worker – Christopher Scott, MSW, CSWA is a social worker from Portland taking a journey to further his career and making an effort to change the platform of social work.
What is your favorite social work podcast?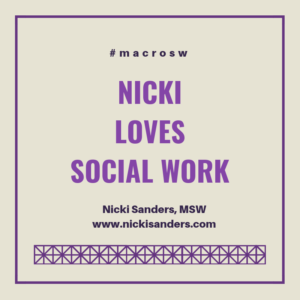 Nicki Sanders, MSW, is a travel and cupcake lover with a passion for self-discovery and career advancement. She has an extensive background in developing and managing interns and successful internship programs. She is an accomplished supervisor, professor, coach, trainer, and group facilitator who has merged her Master of Social Work degree and 20 years of diverse work experience into a thriving business. Nicki Sanders Consulting helps businesses increase employee recruitment and retention and helps managers uplevel their leadership skills.
© 2019 Copyright Protected. ALL RIGHTS ARE RESERVED.