Why Travel Is So Important For Employees (And How To Make It Easier To Offer)
Larry Alton, Forbes Contributor
For the modern employee, a decent salary and an appropriate set of responsibilities aren't necessarily enough to make a job worth pursuing. Thanks in part to the changing values of the American workplace, and in part to the increased options available to both employers and employees, competition is fierce when it comes to additional perks and benefits. Standard offers, like health insurance and retirement plans, are still worth consideration, but there are even more exciting, unique perks that you can offer—such as travel.
The costs and logistics of offering "travel" aren't always as straightforward as more traditional perks (or as stocking the fridge), but there are some real benefits to this type of offer.
The Benefits of Travel
The benefits of offering employees travel options extend to both employees and employers:
Boost morale. The promise of a vacation to a hot destination, like San Diego, is usually enough to keep any employee's morale high. Knowing that a hotel is already booked with a vacation right around the corner can reduce the stress of the "little things" that create ripples throughout the day. And with hotels in San Diego ranging in price from $105 to $434 per night, it's an inexpensive yet highly strategic, not to mention rewarding, morale booster for employees. The thought of going on vacation is enough for most workers to feel better about their positions – which leads to increased employee retention and higher rates of productivity.
Relieve stress. The vacations themselves also serve as a form of stress relief. Encouraging your employees to take regular vacations helps keep their stress levels down, which in turn reduces their risk of developing both physical and mental health risks over time.
Absence makes the heart grow fonder. No matter how fun and welcoming your office is, everyone needs some time away. Giving your employees an excuse to use that time, wherever they end up going, can help your workers rediscover their interest and motivation in working, leading to higher productivity and job satisfaction overall.
Exposure to new cultures. Going to a place with a different culture, whether that's somewhere exotic like Myanmar or somewhere closer like the Southern United States, can help your employees develop new ideas, see things with a new perspective, and ultimately become better thinkers and workers.
Travel is clearly beneficial, but offering it isn't straightforward. Fortunately, there are a handful of ways you can offer travel to your workers as an on-the-job perk:
Travel as part of the job. You could naturally work travel into some of your job responsibilities. For example, you could encourage specific positions to travel to trade shows or industry conferences in other cities. Not all employees will see this as a benefit, but all of them will get the enriching experience when partaking in it.
Paid vacations as a perk. This strategy is more straightforward, but also more expensive. You could offer paid vacations as a perk of the job, much like a bonus program; instead of handing out cash bonuses each year, you could send employees on a paid vacation to a destination of their choice (within a range of options). This may not be feasible as a small business, but it's worth considering.
Travel packages as rewards for performance. If you can't afford to send everyone on vacation, you could offer travel packages and paid vacations as rewards for exceptional performance. For example, you could send your top-performing salesperson on a vacation at the end of a specific contest.
Flexible time off. Instead of sending your employees on vacation directly, you could indirectly encourage them to travel more frequently by offering flexible time off, both in terms of how many vacation days they get and when they're allowed to take them. Flexible time off is always a positive perk on its own, and it will encourage your employees to take more vacations.
Recommendations and moral support. You could also encourage travel indirectly by giving your employees recommendations of where to go, how to travel, and why to travel in the first place. Giving them this direction, as a mentor more than a boss, will help them understand why vacations are important and will help them get the most out of their time off.
Office culture. No matter which other strategies you choose to execute, you should create an office culture atmosphere that encourages breaks, time off, and vacations. This will make people feel more comfortable with the idea of stepping away from the office and will lead to higher morale and better performance over time.
None of this is to say that you have to offer vacations as part of your career benefits; however, even adjusting your company culture to encourage more travel and vacation days can improve the esteem and productivity of your office. Consider revising your offerings here to attract more people to your business and retain the ones you already have. You may even want to partake in the travel yourself.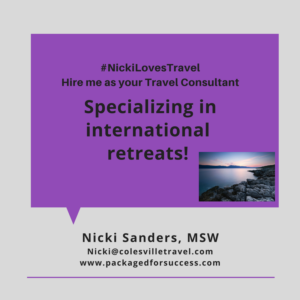 Nicki Sanders, MSW, is a travel and cupcake lover with a passion for self-discovery and career development. She has a strong background in developing and managing interns and successful internship programs. She is an accomplished manager, professor, coach, trainer, and group facilitator who has packaged her Master of Social Work degree and 20 years of diverse work experience into Packaged For Success, a full service training and professional development company.
© 2018 Copyright Protected. ALL RIGHTS ARE RESERVED.