Human beings have flaws. Human beings innately want to protect and do what is best for themselves. Our world is filled with love, hope, compassion, and care but it is also filled with hate, fear, selfishness, and individualism. We've seen centuries of war and colonization. With the injustice, inequity, division, and mistrust of the past year, why would our government expect us to feel safe honoring an honor system that requires people who aren't vaccinated to wear masks and only fully vaccinated people not to wear masks? and what about the safety of young children who can't wear masks? It literally makes no sense.
Anyone who has ever seen a student plagiarize a report or cheat on a test understands that an honor system or honor code is only as viable as those who believe in it. Since the beginning of the global coronavirus health pandemic, there have been people (including top government officials) who have said it was a hoax. The conspiracy theories are endless. The debate over the efficacy of mask-wearing and the misinformation surrounding it has not subsided. The Centers for Disease Control and science in general have been attacked nonstop. There have been nationwide fights and arrests of those who refuse to wear masks because they believe it violates their civil rights – although they have little problem following the signs that say "shirts and shoes required for entry" in every restaurant and retail store in America. There are those people who believe that the vaccine is the "mark of the beast" or another attempt of genocide of Black and Brown people. Human beings fight, speed, steal, rob, and kill – even though there are laws prohibiting them all. Tax evasion, social security fraud, identity theft! Why we ever trust an honor system that relies on people to put voluntarily their strong beliefs and convictions aside? It doesn't make sense.
Do you see where this is headed? Many people don't trust the vaccine because they feel it is an unsafe experiment. No, my friends, THIS after vaccine life is the experiment.
I, for one, will be keeping my mask on in public (at least until the right numbers increase and the wrong numbers decrease), still social distancing, and not congregating in large crowds indoors. I would rather be safe than sorry.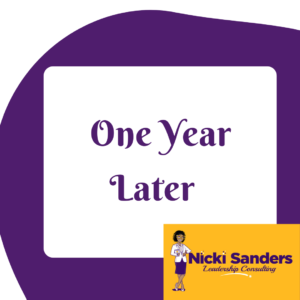 Nicki Sanders, MSW, CEO, is a Career and Empowerment Strategist who helps high-performing women of color in management go from overworked, underpaid, and unappreciated to energized, well paid, and appreciated. Through Nicki Sanders Leadership Consulting, she also helps businesses recruit, hire, train, and retain great employees. Nicki has an extensive background in developing and managing successful programs and leading high-functioning multi-disciplinary teams. She is an accomplished professor, coach, trainer, and group facilitator who has combined her gift for authentic relationships, Master of Social Work degree, and over 20 years of diverse work experience to create a life she loves. Nicki is a lover of cupcakes, travel, and 80's hip hop and R&B music.
© 2021 Copyright Protected. ALL RIGHTS ARE RESERVED.