12th Annual Pack A Purse Drive™ Purse Packing Party
9190 Red Branch Road
Suite #2DY4
Columbia, MD 21045
Date: Saturday 12/8/18
Packing: 1:00pm-3:30pm
Set Up: 12:45pm
VOLUNTEERS NEEDED. Come help us sort and pack purses with personal hygiene items for teen girls in foster homes, group homes, and homeless shelters. Donations can also be dropped off at this time.
Since 2007, JaMai has organized this annual drive and collected and delivered 6,129 purses to 60 organizations that support teen girls in transition.
DRIVING DIRECTIONS:
Enter Red Branch Road at the traffic light entrance.
(Red Branch Road has two entrances)
Turn left into the parking lot after you pass the first median.
(Parking lot entrance between the "islands". Bridgeway Community Church is on your right. If you reach Shadowland or Top Flight Gymnastics you have gone too far.)
Enter the building at the door that faces the parking lot.
It has a sidewalk leading up to it. (There is a yellow sign over the door.)
The Roll Up N Dye banner is also on the building and a white sign on the grass at the parking lot entrance.
Roll Up N Dye is inside of the building on the left. 
If you get lost…follow the handprints.
See you there at 1:00pm!!!
PLEASE SPREAD THE WORD!!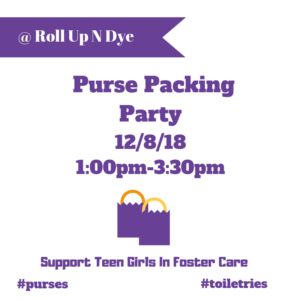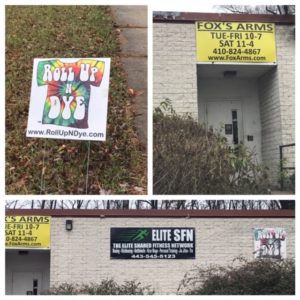 Nicki Sanders, MSW, is a travel and cupcake lover with a passion for self-discovery and career advancement. She has an extensive background in developing and managing interns and successful internship programs. She is an accomplished manager, professor, coach, trainer, and group facilitator who has packaged her Master of Social Work degree and 20 years of diverse work experience into Packaged For Success Enterprises, a full-service training and professional development company.
© 2018 Copyright Protected. ALL RIGHTS ARE RESERVED.