12th Annual Pack A Purse™ Drive: November 1, 2018 – December 3, 2018
Purse Packing Party: Saturday, December 8, 2018
5 Reasons to Support Pack A Purse Drive 2018
Giving feels good
You can bring a smile to a teen girl this holiday season
You can connect with other like-minded givers
You can provide something specific for a teen girl in need
We are asking you to join us in raising awareness about the needs of teen girls in foster homes, group homes, and homeless shelters
If you want to become an Ambassador and host a collection site, here are 5 easy steps to Pack A Purse™ Drive collection success:
Select appropriate containers for donations and an accessible collection location.
Choose collection/drop-off dates and times.
Publicize Pack A Purse™ Collaboration — social media, canvas your neighborhood, post flyers at home, school, or work. It is essential that you acknowledge your collaboration with JaMai Sanders, It's Productive and Pampered, and/or Packaged for Success Enterprises.
Sort through all donations at the conclusion of the drive — keep new and gently used purses; discard items that are not in good condition.
Coordinate pick up and/or delivery with Chief Visionary Officer, Nicki Sanders.
Contact us to become an Ambassador, sponsor, donor, or volunteer.
 Office: (301) 744-8018
 Email: info@nickisanders.com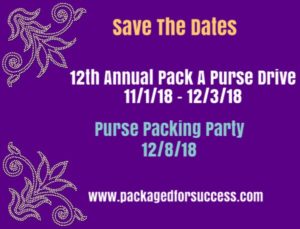 Nicki Sanders, MSW, is a travel and cupcake lover with a passion for self-discovery and career advancement. She has an extensive background in developing and managing interns and successful internship programs. She is an accomplished manager, professor, coach, trainer, and group facilitator who has packaged her Master of Social Work degree and 20 years of diverse work experience into Packaged For Success Enterprises, a full-service training and professional development company.
© 2018 Copyright Protected. ALL RIGHTS ARE RESERVED.