Three Benefits of Business Travel and Company Retreats
Networking/Meet new people
Boost morale and team work
Increase creativity and motivation
My travel specialization is international conferences and retreats for businesses and entrepreneurs. Although I specialize in business travel, I understand the importance of non-business travel. Whether you want to take a self-care sabbatical or simply want to reward yourself for being a marvelous manager, I can create the perfect travel itinerary for your individual and business needs and desires.
Work hard and play hard!
T – Thrive
R – Recreation
A – Adventure
V – Valuable
E – Enthusiasm
L – Leisure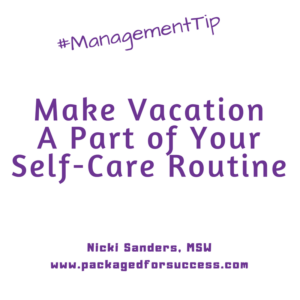 Related: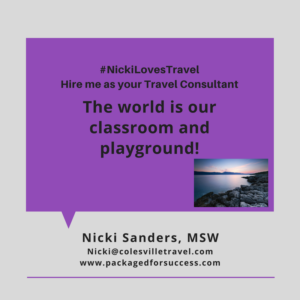 Nicki Sanders, MSW, is a travel and cupcake lover with a passion for self-discovery and career advancement. She has an extensive background in developing and managing interns and successful internship programs. She is an accomplished manager, professor, coach, trainer, and group facilitator who has packaged her Master of Social Work degree and 20 years of diverse work experience into Packaged For Success Enterprises, a full-service training and professional development company.
© 2018 Copyright Protected. ALL RIGHTS ARE RESERVED.