Summer doesn't officially begin for me until I hear the song 'Summer Time' by DJ Jazzy Jeff and The Fresh Prince. Although I couldn't wait to visit a theme park for a roller coaster ride, my fondest summer childhood memories were my annual trips to North Carolina during Labor Day.
Most of us are busier and under more pressure than ever before. We need to balance work with play to prevent burnout. Stress can be detrimental to your mental, physical, and emotional health. Being stressed and overworked can literally become deadly.
A regular self-care routine is crucial to quality of life and professional advancement. Self-care means making yourself a priority, treating yourself well, and taking care of your health.
Studies show that supervisors who take vacations return to their jobs more focused and effective. People often return to work after vacation more optimistic and with more motivation and innovation. A few shorter vacations can be more beneficial than taking only one long vacation each year.  
Relax – your body and mind need to rest
Rejuvenate – let go of stress, anxiety, and overwhelm with a change of pace and scenery. Taking time off can actually improve your happiness.
Refresh – you will think more clearly and perform better after taking a much-needed break
Regroup – taking time away from work allows you to see beyond short-term problems and focus on long-term success
Restore – restore your creativity by putting work away and allowing your brain to time off
Recover – you are likely exhausted and ignoring the signals your body is giving you
Renew – renew your passion for your work
Reflect – reflect on the things that truly matter in life like family and friends
Retreat – vacations don't have to include travel, there are benefits to using your vacation to spend time alone
Relate – Use your time off to strengthen your connection with your loved ones by spending quality time with them
Related: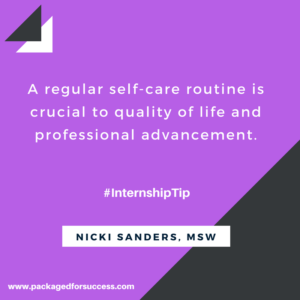 Nicki Sanders, MSW, is a travel and cupcake lover with a passion for self-discovery and career advancement. She has a strong background in developing and managing interns and successful internship programs. She is an accomplished manager, professor, coach, trainer, and group facilitator who has packaged her Master of Social Work degree and 20 years of diverse work experience into Packaged For Success Enterprises, a full service training and professional development company.
© 2018 Copyright Protected. ALL RIGHTS ARE RESERVED.